2022 | Naomi Parry Duncan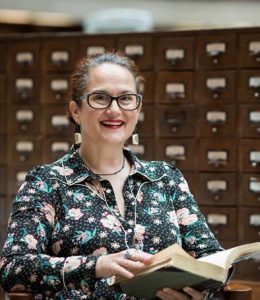 Naomi Parry Duncan (NSW) was announced as the winner of the 2022 Hazel Rowley Literary Fellowship at the Wheeler Centre on 2 March 2022. The announcement followed a panel discussion between Fellowship judge Jeff Sparrow, our 2019 Fellow Eleanor Hogan, and writer and historian Yves Rees (they/them) about the dilemmas of writers including themselves and their journey of research into their biographies.
Naomi is writing about the life of Gai-mariagal man Musquito, who was hanged in Tasmania in 1825. Musquito, originally from Port Jackson, was a resistance fighter who was exiled to Norfolk Island and taken to Van Diemen's Land – lutruwita, palawa/pakana country.
Naomi is a historian who writes about communities and social justice. She is particularly interested in the interactions of Aboriginal people and colonisers in Australian history, from the first days of contact on the frontier to the Stolen Generations. Originally from Tasmania, Naomi now lives in Katoomba, while teaching in the School of Humanities at the University of Tasmania.
(Photo: Joy M Lai)
2022 | Highly Commended Sylvia Martin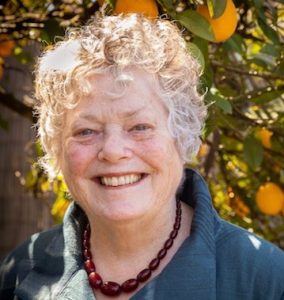 This year the judges decided to give a Highly Commended award of $7,500 to Sylvia Martin who is writing a joint biography of artists and artisans Eirene Mort and Nora ('Chips') Weston, 'New Women' who were influential in the Arts and Crafts Movement in Australia.
Sylvia is a freelance writer, reviewer, examiner and mentor. She is the author of biographies on Ida Leeson and Aileen Palmer, among others. Her book Ida Leeson: A life was awarded the 2008 Magarey Medal for Biography. Her most recent books are Sky Swimming: Reflections on Auto/Biography, People and Place (2020) and in 2021 a revised edition of her 2001 book Passionate Friends: Mary Fullerton, Mabel Singleton and Miles Franklin. In her joint biography of Eirene Mort and Nora ('Chips') Weston, who lived and worked together for six decades, she will further her interest in exploring the lives of past Australian women who did not conform to the expected trajectory of marriage and motherhood and who would today probably call themselves lesbians. Sylvia lives in Katoomba in the Blue Mountains with her long-term partner, Liz.
(Photo: Veronica Turner)