2021 Fellowship

Applications for the tenth Hazel Rowley Literary Fellowship are now closed. We will announce the shortlist in early January 2021. For the 2021 Fellowship we welcome our new judge, Maria Tumarkin.
March 2021 will mark the ten-year anniversary of Hazel's death, but also our tenth Hazel Rowley Literary Fellowship created in her honour. We are planning to award the Fellowship at a (hopefully) live event during Adelaide Writers Week. We look forward to seeing a big crowd there for this significant milestone.
Elizabeth von Arnim biography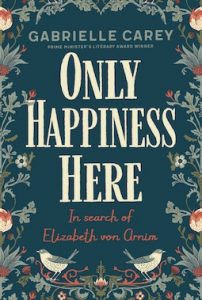 We're pleased to announce the publication of another biography. Gabrielle Carey, who received a Highly Commended Award in this year's Fellowship, has just published her book, Only Happiness Here: In Search of Elizabeth von Arnim. Gabrielle's book is published by UQP and will be launched via zoom at 6.30pm on Thursday 15 October 2020.
Elizabeth von Arnim was born in Sydney in the mid 1800s, and went on to write many internationally bestselling novels. Her novels were ahead of their time in their representation of women and their pursuit of happiness. Only Happiness Here is part biography, part memoir and part reflection on human nature's obsession with finding joy.
Launch of Vida Goldstein biography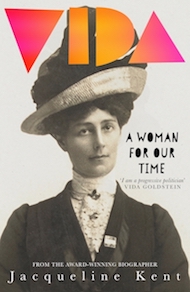 Congratulations to Jacqueline Kent, our 2018 Fellow, whose book Vida: A Woman For Our Time has just been published by Penguin Books. Jacqueline will be in conversation with Sunil Badami at Gleebooks, Sydney on Tuesday 15 September 2020.
Vida Goldstein was an advocate for women's rights and a campaigner for peace, who fought for social equality. She was a tireless campaigner for women's suffrage in Australia, Britain and America. Vida first came to national prominence when she was the first woman in the Western world to stand for a national parliament, in Victoria, for the Senate, in 1903.
Mary Hoban shortlisted for award

Our 2012 inaugural fellow, Mary Hoban, has once again been shortlisted for an award for An Unconventional Wife: The life of Julia Sorell Arnold. Mary's book has been shortlisted for the 2020 Magarey Medal for Biography. The winner, announced on 2 July 2020, was Helen Ennis for Olive Cotton: A Life in Photography. The award is jointly administered by the Australian Historical Association and the Association for the Study of Australian Literature (ASAL).
Biographers International Hazel Rowley Prize

The Biographers International Organisation (BIO) have awarded the 2020 Hazel Rowley Prize for Best Proposal from a First-time Biographer to Jay Prosser for his proposal for Empire's Loving Strangers: Journeys Through an Asian-Jewish Camphorwood Chest, a biography that explores one Jewish family's experiences and connections across empires and centuries. BIO established the prize in 2013 in memory of Hazel Rowley. You can read an interview with Jay Prosser here.
2020 Hazel Rowley Fellowship winner

The winner of the 2020 Hazel Rowley Literary Fellowship, worth $15,000, is Lance Richardson, an Australian writer living in Austin Texas. Lance is writing a biography of the acclaimed writer, naturalist and Zen Buddhist Peter Matthiessen. More details of the announcement are on Writers Victoria website. Due to the cancellation of the lecture, Lance has recorded an acceptance speech, which can be viewed here.
This year the judges also decided to give a Highly Commended award of $5,000 to Gabrielle Carey, who is writing a biography of writer Elizabeth von Arnim.
More information about both our recipients can be found on our Fellowship page.
2020 Memorial Lecture cancelled

Under the current public health circumstances, and with great sadness, we have cancelled the Hazel Rowley Memorial Lecture, scheduled for Friday 20 March at the Wheeler Centre, Melbourne. We hope to hold the lecture later in the year.
The Memorial Lecture, 'Making Characters: biography and memoir', was to be given by biographer Jacqueline Kent, who won the 2018 Hazel Rowley Fellowship for researching and writing the life story of Australian pioneer suffragist Vida Goldstein. This biography is due to be published by Penguin Random House in September 2020.
Jacqueline Kent, biographer of Julia Gillard, Hephzibah Menuhin, and Beatrice Davis, has turned the spotlight on herself and her brief but passionate relationship and marriage to Kenneth Cook, author of the novel Wake in Fright. Her memoir Beyond Words: A Year With Kenneth Cook was published by the University of Queensland Press in February 2019.
2020 Fellowship shortlist announced
Nine Australian writers have been shortlisted for the 2020 Hazel Rowley Literary Fellowship worth $15,000:
Margo Beasley (NSW) for a biography of Australian doctor and political activist Eric Dark,
Diane Bell (ACT) for a book called 'The Queen and the Protector', about Ngarrindjeri woman Louisa Karpany and South Australian 'Sub-Protector of Aborigines' George Mason,
Tegan Bennett Daylight (NSW) for a biography of New Zealand-born writer Ruth Park,
Stephenie Cahalan (TAS) for a biography of Australian artist Jean Belette,
Gabrielle Carey (NSW) for a biography of Australian writer Elizabeth von Arnim,
Madelaine Dickie (WA) for a biography of Indigenous leader Wayne Bergmann, a Kimberley Traditional Owner,
Shakira Hussein (Vic) for her memoir 'NineEleven-itis',
Lance Richardson (NSW/USA) for a biography of American writer, naturalist and Zen Buddhist Peter Matthiessen,
Suzanne Robinson (Vic) for her proposal 'Decadent Melbourne', about art, artists and immorality in the 1890s.
Mary Hoban's book wins Awards

We are pleased to announce that Mary Hoban's book An Unconventional Wife: The life of Julia Sorell Arnold has won two prizes in the Queensland Literary Awards: the University of Queensland Non-Fiction Book Award and the University of Southern Queensland History Book Award.
Fellowship Events >