Congratulations to Arnold Zable
One of our previous guest judges Arnold Zable has been presented with the 2021 Australia Council Award for Lifetime Achievement in Literature. The award was presented at an online event in April 2021. You can see Arnold in conversation with publisher Michael Heyward. Arnold was a generous and committed judge and we are honoured to have him as part of our Fellowship. We are thrilled to see his work being recognised by the Australia Council.
2021 Hazel Rowley Fellowship winner
The winner of the 2021 Hazel Rowley Literary Fellowship, worth $15,000, is Mandy Sayer, who is writing a biography of the McDonagh sisters, Australia's first female filmmakers.
The announcement on 3 March at Adelaide Writers Week followed the Hazel Rowley Memorial Lecture, given by biographer and 2018 Hazel Rowley Fellow, Jacqueline Kent. In her talk, 'Making Characters: biography and memoir', Jacqueline discussed the different challenges  of each, and what happens when you become a character in your own story and what happens when you switch from describing others' lives to tackle your own.
More information about our 2021 winner can be found on our Fellowship page.
Ten years of supporting Australian biographers
Our wonderful fund managers, Australian Communities Foundation, have celebrated our 10-year anniversary of creating the Fellowship to honour Hazel Rowley, who died on 1 March 2011. On the day we announced our 10th Fellowship winner, ACF published an article about us in their online newsletter.
Ernestine Hill and Daisy Bates biography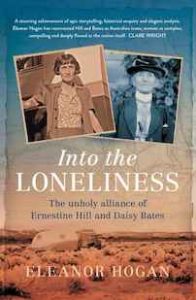 Congratulations to Eleanor Hogan, our 2019 Fellow, whose book Into the Loneliness: The unholy alliance of Ernestine Hill and Daisy Bates is being published by NewSouth Books in March 2021. It has already been reviewed positively by Brenda Niall in Inside Story.
Eleanor's book is a fascinating biographical study of two remarkable women. Ernestine Hill, a journalist and writer, and Daisy Bates, a self-taught ethnologist, collaborated to publish the 1938 international bestseller The Passing of the Aborigines. This book informed popular opinion about Aboriginal people for decades.
Stephany Steggall publishes new book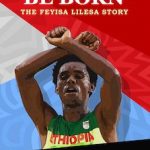 Our 2013 Fellow, Stephany Steggall, has recently published A Time to be Born: The Feyisa Lelisa Story.  Her book tells the story of a young Ethiopian runner who used the 2016 Olympic Games to raise his arms in protest about the plight of his people, the Oromos.
The book is available at Stephany Steggall's website, at Red Sea Press and on Amazon.
2021 Fellowship shortlist announced

Seven Australian writers have been shortlisted for the tenth Hazel Rowley Literary Fellowship, worth $15,000.
Jillian Graham, for a biography of Australian composer and arts activist Margaret Sutherland.
Amanda Lourie, writing about AW Howitt, English-born Australian anthropologist and explorer.
Jo Oliver, for a biography of Australian modernist artist Adelaide Perry.
Sheila Ngoc Pham, writing about Anne Spencer Parry, Australian science fiction writer and psychotherapist.
Kate Rice, for a biography of Australian mother and daughter Marian Dunn and Marian Marcus Clarke.
Mandy Sayer, for her proposal on the McDonagh sisters, Australia's first female filmmakers.
Michelle Scott Tucker, writing a memoir for Aaron Fa'Aoso, Torres Strait Islander actor, film and television writer, director and producer.
March 2021 will mark the ten-year anniversary of Hazel's death, but also our tenth Hazel Rowley Literary Fellowship created in her honour. We are planning to award the Fellowship at a (hopefully) live event during Adelaide Writers Week. We look forward to seeing a big crowd there for this significant milestone.
Elizabeth von Arnim biography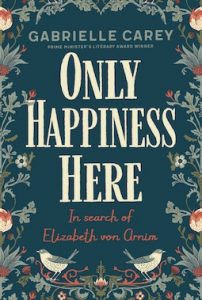 We're pleased to announce the publication of another biography. Gabrielle Carey, who received a Highly Commended Award in this year's Fellowship, has just published her book, Only Happiness Here: In Search of Elizabeth von Arnim. Gabrielle's book is published by UQP and will be launched via zoom at 6.30pm on Thursday 15 October 2020.
Elizabeth von Arnim was born in Sydney in the mid 1800s, and went on to write many internationally bestselling novels. Her novels were ahead of their time in their representation of women and their pursuit of happiness. Only Happiness Here is part biography, part memoir and part reflection on human nature's obsession with finding joy.
Launch of Vida Goldstein biography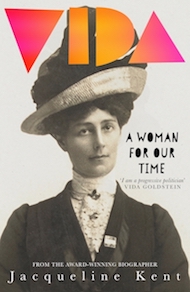 Congratulations to Jacqueline Kent, our 2018 Fellow, whose book Vida: A Woman For Our Time has just been published by Penguin Books. Jacqueline will be in conversation with Sunil Badami at Gleebooks, Sydney on Tuesday 15 September 2020.
Vida Goldstein was an advocate for women's rights and a campaigner for peace, who fought for social equality. She was a tireless campaigner for women's suffrage in Australia, Britain and America. Vida first came to national prominence when she was the first woman in the Western world to stand for a national parliament, in Victoria, for the Senate, in 1903.
Biographers International Hazel Rowley Prize

The Biographers International Organisation (BIO) have awarded the 2020 Hazel Rowley Prize for Best Proposal from a First-time Biographer to Jay Prosser for his proposal for Empire's Loving Strangers: Journeys Through an Asian-Jewish Camphorwood Chest, a biography that explores one Jewish family's experiences and connections across empires and centuries. BIO established the prize in 2013 in memory of Hazel Rowley. You can read an interview with Jay Prosser here.
Fellowship Events >