Frank Moorhouse biography published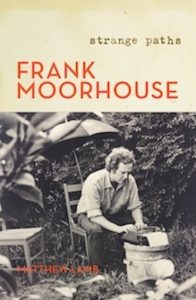 We are incredibly pleased to announce that Volume one of a two-volume biography of Frank Moorhouse by Matthew Lamb, our 2016 Fellow, has just been released. Frank Moorhouse: Strange Paths is published by Knopf, an imprint of Penguin Random House.
Matthew has recently published an article in a Friday Essay for the Conversation where he discusses in detail how a biographer balances storytelling with a search for the truth. He talks compellingly about the complications and dilemmas a biographer faces – for example, what to do when the 'legend' conflicts with the facts, and how to avoid letting a friendship with your subject cloud your understanding of him as a biographical subject. Matthew also has a Substack newsletter where he has launched an occasional series on the ongoing project of writing Frank Moorhouse's life, including reflections on the art of biography, literary culture and democracy (Public Things).
We congratulate Matthew on this magnificent book and urge you to buy a copy.
2024 Hazel Rowley Literary Fellowship

Applications for the 13th Hazel Rowley Literary Fellowship are now closed. The Fellowship shortlist will be announced in January 2024 and the winner will be announced at the Wheeler Centre, Melbourne on 13 March 2024. Our judges for the 2024 Fellowship are Clare Wright, Christos Tsiolkas, Della Rowley and Lynn Buchanan.
Ann-Marie Priest wins the 2023 National Biography Award
We are immensely pleased to announce that Ann-Marie Priest, our 2017 Fellow, has won the National Biography Award for her biography of Australian poet Gwen Harwood, My Tongue is My Own: A Life of Gwen Harwood (La Trobe University Press/Black Inc, 2022). This is the first biography of Gwen Harwood, one of Australia's finest poets. The judges were unanimous in their praise of Ann-Marie's research, scholarship and analysis, describing it as a 'perceptive' and 'creative' biography. Huge congratulations to Ann-Marie for a well-deserved win. We're so proud to have played a part in supporting her work.
National Library Canberra acquires Hazel Rowley Papers
We have some exciting news for researchers and biographers.
Hazel Rowley lodged her Papers in relation to her Christina Stead biography with the National Library of Australia (NLA) back in 1996. The NLA has now acquired the rest of Hazel's Papers in relation to her biographies of Richard Wright (2001), Simone de Beauvoir and Jean-Paul Sartre (2006), and Franklin and Eleanor Roosevelt (2010). They have also acquired her Papers in relation to her essays and her other writing.
The NLA was very pleased to acquire the collection. It includes an original letter of Simone de Beauvoir and original letters of Christina Stead. The Papers are catalogued under the heading Papers of Hazel Rowley. For more information about Hazel Rowley and her writing, go to our Hazel Rowley page.
Fellowship Events >