HAZEL ROWLEY was born in England and brought up in Adelaide, Australia. She started her working life as an academic, living first in Sydney and then in Melbourne, where she worked at Deakin University. After deciding to leave the university and become a full-time writer, she lived in Boston, Paris and finally New York City from 2005 to 2011. She died suddenly on 1 March 2011 in New York after contracting an MRSA infection (methicillin-resistant staphylococcus aureus) followed by strokes (see Obituaries).
In July 2021 Melbourne University Press (MUP) published Life as Art: The Biographical Writing of Hazel Rowley under their Miegunyah Press imprint. With an introduction by the Australian writer Drusilla Modjeska, this collection of short pieces was put together and edited by Hazel's sister Della Rowley and friend Lynn Buchanan.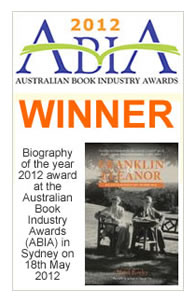 Hazel's last book, Franklin and Eleanor Roosevelt: An Extraordinary Marriage, was published by Farrar, Straus and Giroux in 2010 and by Melbourne University Press in Australia in 2011. It won the 2012 Australian Book Industry Awards for Biography of the year.
She lived in Paris for 18 months in order to write Tête-à-Tête: The Tumultuous Lives & Loves of Simone de Beauvoir and Jean-Paul Sartre, published by Harper Collins, New York, in 2005. The book has been translated into over a dozen languages, and has garnered considerable international acclaim. It was a Washington Post Best Book for 2005. In Brazil it was a bestseller, and in France the literary magazine Lire named it 'the best literary essay of 2006'.
Hazel wrote Richard Wright: The Life and Times while she was affiliated with the W.E.B. Du Bois Institute for Afro American Studies at Harvard (Boston). Published by Henry Holt in August 2001, the book had cover reviews in the New York Times and Washington Post and was listed among the 2001 Washington Post Book World Raves. It was re-issued by Chicago University Press in March 2008.
Christina Stead: A Biography was published by Heinemann, Australia, in 1993, where it won the 1994 National Book Council Award for Nonfiction. Published by Henry Holt in the US and Secker & Warburg in the UK, it was named as a New York Times Notable Book. The book was re-issued in 2007 by Miegunyah Press, Melbourne, Australia.
Hazel's essays have appeared four times in The Best Australian Essays (see her essay 'Mockingbird Country' on Harper Lee). Her essay 'Beauvoir, Brazil, and "Christina T"' was published in BookForum in April/May 2007. In December 1996, she mourned the dramatic changes in tertiary education in an article published in The Australian, called 'Universities are losing on points'. She published articles in Partisan Review, Mississippi Quarterly, Antioch Review, Contemporary Literature, Prose Studies, a/b: Auto/Biography Studies, Texas Studies in Literature and Language, Southerly and Westerly, and reviewed books for The Times Literary Supplement (UK), The  Times Higher Education Supplement (London), Boston Globe, Washington Post, The Nation, and Los Angeles Times.
A passionate speaker, she appeared at numerous book festivals and literary events in the United States, Canada, the UK, France, and Australia. Her last speaking engagements included the Athenaeum (Boston), the Smithsonian (Washington), the New York Society Library, the Alliance Française, Chicago, and the Sydney Writers' Festival. Before she died Hazel toured the United States talking about Franklin and Eleanor Roosevelt: An Extraordinary Marriage and was just about to leave for a similar tour in Australia and to attend the Perth Writers' Festival in 2011.