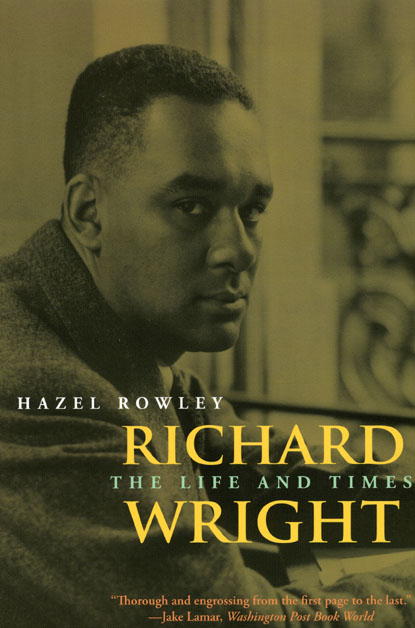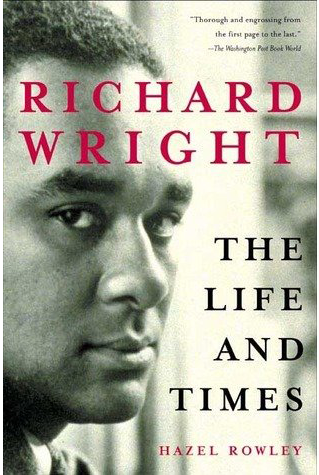 BORN IN 1908, Richard Wright went from a wooden share cropper's shack in Mississippi to international renown as a writer, fiercely independent thinker and outspoken critic of racism. Wright arrived in Chicago in 1927 when it was the most racially segregated city in the nation. As a child of the fundamentalist South with an eighth grade education, a self-taught intellectual in the working class Communist party of the 1930s, a black man married to a white woman, and an expatriate in Paris after the Second World War, Wright was always an outsider. He died in 1960 and was buried in Pere Lachaise Cemetery in Paris.
His novel Native Son was the first novel by an African-American to be featured as a main selection of the US Book-of-the-Month Club and became a critical and commercial success, selling over 250,000 copies in the first year. Black Boy, his autobiography, was also a best seller and remains a seminal text about what it means to be a southern black man in America. Wright wrote in different genres, including autobiography, essays and travel writing, but Native Son remains his greatest achievement. Wright's friends included Carson McCullers, Gertrude Stein, Langston Hughes, Nelson Algren, Ralph Ellison and James Baldwin. To Simone de Beauvoir and the existentialists it was Richard Wright, more than any other American writer, who was writing the "committed literature" they admired. "Writing is my way of being a free man," said Richard Wright.
Rowley wrote Richard Wright: The Life and Times while she was affiliated with the W.E.B. Du Bois Institute for Afro American Studies at Harvard. Published by Henry Holt in August 2001, her book had cover reviews in the New York Times and Washington Post and was listed among the 2001 Washington Post Book World Raves. It was re-issued by Chicago University Press in March 2008.
Acclaim for Richard Wright  
"Hazel Rowley's Richard Wright is all that one can reasonably hope for in a biography, and yet so much more. Tirelessly, imaginatively researched and elegantly written, it examines this enigmatic Native Son with an exacting but also finely sympathetic eye. The result is a portrait of uncommon penetration and skill — surely one of the finest literary biographies to appear in many a year."
— Arnold Rampersad, author of The Life of Langston Hughes
…….
"Riveting. … In Hazel Rowley's incisive and engrossing appreciation of a literary career spanning two continents, Richard Wright now has a biography that takes full measure of the significance of his celebrated, tortured, volcanic passage."
— David Levering Lewis, winner of the Pulitzer prize for his biography of W. E. B. Du Bois
…….
"Rowley's biography is wonderfully readable and fair to the subject. …This is a first-rate biography worthy of its towering, larger-than-life subject."
— Gerald Early, Christian Science Monitor
…….
"Wright's was an epic journey, and … Hazel Rowley describes it in gripping fashion in her new biography. If her book is often a bit short on analysis and interpretation of motives and events, it is long on sheer narrative momentum.
"Rowley's book is bursting with juicy anecdotes, yet the biographer manages always to be fair-minded and non-judgmental."
— Jake Lamar, The Washington Post (cover review)
…….
"In her excellent, entirely readable Richard Wright: The Life and Times, Hazel Rowley accomplishes what [previous biographer Michel] Fabre would have liked to do with once-guarded letters, aging witnesses, previously unidentified girlfriends. She also gives us more of Wright's journals than we've had before. …Mostly, Rowley concentrates on telling Wright's very powerful story."
— Darryl Pinckney, The New York Review of Books
…….
"Hazel Rowley does a splendid job of narrating Wright's journey across that delicate bridge in her new biography of the writer. Richard Wright is well written, prodigiously researched and nicely paced, a compelling evocation of the man, his craft and the different worlds through which he moved. …As pure biography it's hard to fault Ms. Rowley's book."
— Michael Rbarra, The Wall Street Journal
…….
"Rowley's Life and Times does an outstanding job placing Wright within the social and political contexts of the many worlds through which he moved: poor and rich, white and black, American and European.
"Rowley makes her strongest points not through her commentary but by her clear, pointed storytelling. …As she often does throughout this rich and revealing biography, Rowley simply lets the facts speak for themselves."
— Megan Harlan, San Francisco Chronicle
…….
"Rowley … has a daunting dedication to primary sources and her documentation is meticulous."
— Michael Anderson, The New York Times Book Review (cover review)
…….
"Hazel Rowley's biography of Wright is a book worthy of its complex and enormously talented subject. Rowley, who also wrote a biography of the Australian novelist Christina Stead, is not only a fine researcher but a splendid stylist. She captures the excitement and despair that was the life of one of America's finest novelists."
— Roger Harris, Newark Star Ledger
…….
"So much has been written about the controversial African-American author Richard Wright, who penned Black Boy and Native Son. There are four biographies, including the adoring 1973 book by Frenchman Michel Fabre and the scathing, no-holds-barred 1988 work by black poet Margaret Walker. Of the books written on Wright to date, the new biography by Hazel Rowley is more informative, comprehensive and insightful than any of the earlier efforts …This is a superb book from start to finish."
— Robert Fleming, Book Page
…….
"A magnificent biography, subtle and insightful. …Rowley writes with style and grace, and her research on Wright is prodigious."
— Howard Zinn, The Week
…….
"As this absorbing biography documents, Wright remained an outsider everywhere."
— 'Briefly Noted', The New Yorker
…….
"Rowley's biography is a worthy companion to Wright's own Black Boy and American Hunger, and absolutely the great way to get through the dog days of August."
— Nelson George, Mr. 125 Street