Hazel Rowley, 'Review of Books', The Australian, April 1999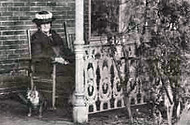 WE SWEEP along narrow back roads, past Alabama cotton fields, wooded hills and pine forests, and get to Monroeville in the mid afternoon. Monroeville is the small town, two hours from Montgomery and two hours from Mobile, where Harper Lee was born in 1926, within a block of the town square. She still lives there when she is not in New York. It is also the model for "Maycomb," the small, sweltering Southern town in To Kill a Mockingbird.
The town's large welcome sign features a mockingbird. This seems promising to us, though it is not quite clear what promise we hope for. My friend and I have come here, like many others before us, to poke around in that twilight never-never territory between fiction and life. The sign may have nothing to do with Harper Lee. Mockingbirds are quite common in the South. Small grey and white creatures, they flick their long tails from side to side and burst occasionally into the sounds that are their claim to fame. According to the Encyclopedia of Southern Culture, the male "can mimic 39 bird songs, 50 call notes, as well as the cackling of chickens, creaking of wheelbarrows, croaking of frogs, barking of dogs, and tinkling of a piano." Southerners will boast proudly that the mockingbird "has the nightingale beat a mile."
In To Kill a Mockingbird, Miss Maudie tells the children that mockingbirds "don't do one thing but sing their hearts out for us." Which is why it is a sin to kill one.
I park under the live oaks around the town square. There, in the middle, is the old red-brick courthouse, with its domed clock tower. I recognize it from the movie, in which Gregory Peck stars as Atticus Finch, the children's lawyer father. It turns out that the courthouse was saved from becoming a parking lot by the 1962 film that made it famous. The relationship between life and fiction is more than usually convoluted in this town. Under the nearby pecan trees and spreading oaks, there is a rock with a plaque on it, put there in 1997 by the Alabama State Bar. It pays tribute to the fictional character, Atticus Finch, "a lawyer-hero who knows how to see and to tell the truth."
"Where Quality of Life is better than fiction" is how Monroeville describes itself on the map they give you at the Chamber of Commerce. Around the edge of the map, the advertisements for shops and businesses include The Mockingbird antiques and gift store, and Radley's, where you can eat homemade soups and "enchanting desserts." (In the novel, the Radley house, the children are convinced, contains a malevolent phantom.) The Monroeville in the 1930s Walking Tour brochure boasts: "We haven't changed that much."
These days, the old courthouse is a museum. Every spring a theatrical adaptation of the novel takes place on the grass under the trees around the courthouse. In the second half, white males are selected from the audience to help make up the all-white, all-male jury of the 1930s that convicts the Negro Tom Robinson for a rape he did not commit. The spectators move inside, to the balcony of the old courtroom, and watch the trial below. As a child, Nelle Harper Lee often used to watch her father from there.
Harper Lee has said that she did not base the fictional story on any specific historical case. In To Kill a Mockingbird, Mayella Ewell, who claims Tom Robinson raped her, is an impoverished, illiterate 19 year old, who is terrified to tell the truth. The fictional case certainly brings to mind the famous Scottsboro Boys trial in the Thirties, when nine bewildered Alabama black youths were accused of raping two white women on a freight train and sentenced to the electric chair. The "evidence" in that case, too, was flimsy and contradictory. Later, one of the women, Ruby Bates, admitted she had made up her testimony. She became a speaker at Scottsboro defense rallies. In a letter to me, Harper Lee says that she did not have so sensational a case in mind when she was writing Mockingbird, "but it will more than do as an example (albeit a lurid one) of deep-South attitudes on race vs. justice that prevailed at the time."
Monroeville is what everyone calls "a sleepy Southern town." It seems to have been hibernating for fifty years. Many of the old houses and buildings have been destroyed, and yet the place strongly evokes the past. Harper Lee's childhood home has gone, and so has the rambling white frame house next door where her friend Truman Streckfus Persons used to come for summer vacations. There was once a hedge between the two houses, and a giant chinaberry tree at the back with a treehouse where they would make up stories. Today, Mel's Dairy Cream Icecreamery stands on the site of the Lee family home. Next door is a vacant lot, with a historical marker that says Truman Capote (as he became) used to come here in the summer. He was the inspiration for "Dill" in the novel, a strange-looking, small and lonely boy, with an extraordinarily inventive mind.
In the Sixties, there was an unfortunate burst of town development — the new orange brick courthouse, next to the old one, looks like corporate offices — but otherwise, the place seems to have completely ignored that momentous decade which saw its young prodigies, Harper Lee and Truman Capote, become famous. Harper Lee was 35 when To Kill a Mockingbird won the Pulitzer Prize in 1961. Truman Capote was 42 when In Cold Blood, that nonfictional narrative about the murder of the Clutter family, brought him fame in 1966. (Harper Lee had accompanied him to Kansas to research the murders.)
In the Thirties, when Lee and Capote were playmates, the town's principal recreation was churchgoing. It still is. Seventy five churches are marked on the map of Monroe County, not counting the fourteen in Monroeville itself.
"People moved slowly then," we read in To Kill a Mockingbird. "There was no hurry, for there was nowhere to go, nothing to buy and no money to buy it with." That was Maycomb in the Depression. There was also no airconditioning, an invention that has fundamentally changed life in the South. But Monroeville today retains Maycomb's slow, rather desolate quality. The stores around the square are a strange medley. The Ministry Book Store sells bibles, prayer books and New Age cards. Gift shops display nativity sets and bible cases, gaudy ceramics, bowls of artificial fruit and blond southern belle dolls with large pink ribbons in their hair. In Williams Drug Store, the shelves are sparsely stocked with creams and greeting cards; shapely old bottles and jars, not for sale, are displayed on a high shelf. On the door are notices, mostly church service times. A three-man band, specializing in blue grass, country and gospel music, is coming soon. The Garden Club is sponsoring a chicken supper at the Robbins hotel.
Furniture shops sell heavy Victorian furniture, dark framed nature morte paintings and enormous pineapple sculptures standing on a base. Wandering around these stores, I feel I am beginning to understand the meaning of Southern Gothic.
I re-read To Kill a Mockingbird last year and loved and admired it all over again. I wrote to Harper Lee and told her so. I said I was coming South in October; could we possibly have a brief meeting? To my surprise and pleasure, she wrote back. Her letter was delightful: warm, flattering, modest and encouraging, handwritten in blue ink, with two neat crossings out. (I found this a most appealing time warp). But for the greater part of October she did not expect to be in Monroeville. I had never really hoped to see her. Harper Lee is as famous a recluse as J.D. Salinger.
For me, currently researching the Old South, as the segregated South is now known, she prescribed (as she put it) "a hard dose" but "absolutely essential." It was William Faulkner's trilogy The Hamlet, The Town, The Mansion — the saga of the depraved Snopes family, who "like colonies of rats or termites" (writes Faulkner) settle in the South and by means of rapacity and corruption, take over from the old order families. "You see," writes Harper Lee, "Faulkner's prophecy was eerily correct. That the Snopeses would take over the South is exactly what has happened."
Harper Lee still belongs, in many ways, to the Old South. She once said: "In the South we are still in the Victorian Age in some ways — and in some ways I don't want to get out of it." In Contemporary Authors, she gives her religion as Methodist and her politics as Republican. She has said in interviews that her taste is nineteenth century fiction. Her heroes are "the two greatest gentlemen America has produced — Robert E. Lee and Tom Jefferson." Southerners, both.
The New South is blighted by sterile four-lane highways, vulgar chain stores, chain motels and chain eateries. Alongside that strident commercialism, you find a ghost town emptiness, a stiffbacked righteousness without real content. The Indian owner of one of the motels in Monroeville (Indians, from India, seem to own most of the motels in the South) is proud of the town's respectability — even if, in the course of our long chat, he lets slip that his week-day clientele is often on the shadier side of virtue. Everyone points us to the Catfish Café, on the edge of town, where you are served Cajun style catfish in a large room as barren as a morgue. No beer here. No alcohol to be consumed on the premises. And nor can you buy it elsewhere. Monroe Country is a "dry county." I recall that Amasa Coleman Lee, Harper Lee's father and the model for Atticus Finch, was a staunch Methodist and a member of the Alabama Alcoholic Control Board. "Y'all come and see us again now," the matronly waitress says when we leave.
The motel does not serve breakfast, and there is nothing resembling a café in town. The Sweet Tooth Bakery, on the square, is a long, deep room, like a train. Brassy chandeliers hang on long chains over rows of tables covered in floral plastic. Gilded ceiling fans squeak noisily. Behind the counter are iced cakes and wedding cake decorations. Coffee is in an urn on a plastic table in the corner. My friend asks for milk, and the woman brings out a four-liter plastic container with a drop left at the bottom and dumps it cheerily on the table. The only thing on the menu is biscuits, served with a sausage in the middle. We eat off the aluminum foil in which they were heated.
Later, the woman produces some apple fritters and brings us one each to try. She belongs to the Pentecostal church, she tells us. She has never cut her hair. "A woman's hair is her glory." She is against women wearing trousers. And she does not subscribe to the telephone company AT&T because they support homosexuals and the Bible says that's wrong.
No, she has not read To Kill a Mockingbird. She has tried to watch it on TV two or three times, but she always falls asleep. She only reads the bible. That's the best book. There's so much in it. However much you read it, there are always new things in it.
Yes, Nelle Harper Lee used to come in here to eat. But then, after the book, people recognized her, and that was it. Miss Nelle is very private. She hates people asking about her book. Half the year, she lives here in Monroeville, with her sister Alice, who has a law firm in town. Miss Nelle is always dressed the same: faded jeans, a blouse, and runners. Alice wears a suit and runners and these days, she walks with a cane. She's 83.
Alice Lee's house is opposite the Monroe Junior High School. The air is filled with the shouts of children (black and white, these days). I imagined I might catch a glimpse of one of the two sisters sitting out on the porch swing. Or that I might spy one of them collecting the mail from a postbox covered in honeysuckle, near the gate. I would have been content with an empty porch swing; I could always imagine the figure on it. I could even make do with a magnolia tree; it would indicate to me the sisters' deep love of the South. What I saw was an ordinary brick house, with a tiled roof, and no porch and no big trees. The garden is trim. The house and garden would not look out of place in any city suburb. How foolish we are to look for fiction in life!
But we do. To Kill a Mockingbird is one of those novels that shapes your picture of small town Alabama. It's like trying to walk on the Yorkshire moors without thinking about Emily Bronte. It's impossible. The fiction is there, bubbling up in your memory, exuding the magic of another world.
The big mystery, of course, is why Harper Lee wove such magic once, and has not published another book in forty years. For a while, in the early Sixties, she told interviewers she was writing another novel. But soon, the interviews stopped, and the fiction has never appeared. Did fame intimidate her? She said herself that she was a painful perfectionist, more of a "re-writer" than a writer. Perhaps she felt she could never again live up to her own standard, "the Jane Austen of South Alabama." Or did she find herself paralyzed by the tense home-town gossip? Most townspeople thought they saw themselves in the book. Several recognized the abnormally shy, reclusive, simple-minded Boo Radley as a member of their own household. And some threatened to sue the author. Could it be that there was only one story that Harper Lee could tell at such an emotional pitch? Deep feelings run through To Kill a Mockingbird, even if the emotion is hidden below the surface.
Harper Lee, sometimes said to be the youngest of four children, sometimes three, dedicates her novel: "For Mr. Lee and Alice in consideration of love and affection." The wording is strangely formal; the dedication itself is strange. Why her father and one sibling?
To Kill a Mockingbird celebrates the lawyer who has the courage of his convictions. Amasa Coleman Lee was such a lawyer, and he was regarded with awe by his children. Harper Lee studied law at the University of Alabama, but dropped out in 1950, one semester before finishing, to go to New York and try her hand at writing. It's what she had loved doing since her childhood, even if she tore everything up because she never considered it good enough. Her sister Alice followed in their father's footsteps. When she graduated, Mr. Lee invited Alice to practice with him in Monroeville. Alice says she worried whether she would be accepted, as a female lawyer in a small rural town. She worried, too, about being swallowed up in her father's shadow: "If you grow up in a little town, you're always Mr. Lee's little girl," she explains in the one interview she has ever granted, for a local paper. Her father, she says, was a "beloved person" in the town, "a very gentle person and a wise person." They were partners until he died. Like her father, Alice Lee has been very active in the Methodist church.
There was no such thing as a "civil rights lawyer" in Amasa Coleman Lee's day. And his daughter Alice never dealt with any civil rights suits. However, Harper Lee tells me, "as firm believers in "equal rights for all," both have quietly done far more than their share to make the slogan a reality.'
Mr. Lee lived just long enough to see his daughter win the Pulitzer Prize for a novel that was a passionate tribute to him, as a lawyer and a father. Atticus Finch is an idealized portrait. His wife has died. He is the one to teach his children that fairness and kindness come before questions of class or race. A gentle, educated man, he both belongs and does not belong in that bigoted small town world. He understands children, leaves them a great deal to their own devices, and appreciates their sense of fun. His son Jem rather wishes his father would occasionally play poker or go hunting or fishing, like other fathers do. But that is before he sees Atticus shoot a dog with rabies from afar, with one crack shot. And before he sees him stand up to the lynch mob that forms outside the town jail where Tom Robinson is awaiting his fate.
In the novel we are told that the children's mother died of "a sudden heart attack" when Scout, the girl narrator, was two. In reality, Frances Finch Lee died in 1951, around the time her 25 year old daughter was setting up a makeshift desk in Manhattan to begin work on her novel. Harper Lee pays tribute to her mother by giving the family the surname "Finch." But otherwise her mother is a conspicuous absence.
Biographical portraits of Harper Lee are thinner, more vague and more mysterious than portraits of J.D. Salinger. They depend heavily on the two or three interviews the author gave in the early Sixties. She has never said anything about her mother, or her second sister, or a brother, who is said to have died in early adulthood. In fact, she has given away almost nothing.
One of Truman Capote's biographers, Marianne Moates, moved to Monroeville in 1960 and heard from all sources that Mrs. Lee was strange. People said she would get up at 2 a.m. and bang out tunes on their upright piano that could be heard, on summer nights, as far away as the town square. Gerald Clarke, Capote's most serious biographer, writes that Mrs. Lee was a "woman of gigantic proportions," who would sit for hours on the front porch doing crossword puzzles and saying bizarre things to passers-by. "Her mind was not altogether right." In Conversations with Capote, Truman Capote remembers her as brilliant and an endless gossip. At the age of ten Capote wrote a short story based on Mrs. Lee. He called it "Mrs. Busybody." It won a prize and was printed in the Mobile Register and "everybody was so upset." Capote also says that Mrs. Lee twice tried to drown her young daughter Nelle in the bathtub. "When they talk about Southern grotesque, they're not kidding!," he told Gerald Clarke.
It's reassuring to know that it is possible to remain a mysterious figure in today's America. There is something befittingly Deep South about the tangled stories, the ghosts, and swampy facts that blow through Harper Lee's legend.
The Lee parents lie side by side in a large, freshly mown grave in the Pineville Road Cemetery on the edge of town. Frances Finch Lee: 14 August 1888–2 June 1951 and Amasa Coleman Lee: July 1880–15 April 1962. I was there on a moonless night. Ghosts flitted between the tombstones. The trees looked to me like giant pineapples. The place was eerily still, that stillness you get before a storm. I could hear the croaking of frogs in the near distance. Or was it a mocker practicing his repertoire?