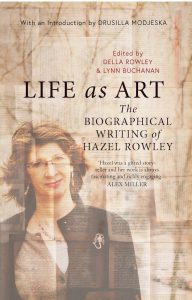 LIFE AS ART is an edited collection of short pieces written by Hazel Rowley and put together by Della Rowley and Lynn Buchanan. It includes an introduction by writer Drusilla Modjeska. This collection – journal articles, essays, talks and diary entries – provides a wonderful insight into the craft of biography. Published in July 2021 by MUP under their Miegunyah Press imprint, this book represents more than 20 years of Hazel Rowley's writing. In this collection Hazel talks honestly about the joys, the challenges, and the highs and lows of writing biography.
Many of the pieces in this collection are unpublished talks that Hazel gave at conferences and literary events. Hazel was a lively and entertaining speaker, as well as an engaging writer. It will be clear from the diary entries that appear in this book that part of her success as a biographer came from her ability to engage with people and listen to their stories and points of view.
Hazel had a strong interest in cultural and social differences, languages, history and the influences and choices that shape individual lives. She was strongly influenced by existentialist philosophy, feminism and ideas of freedom and choice – these became central questions in her biographies. She turned to biography writing as a way of combining her interest in writing with her interest in people.
Hazel summed up the role of a biographer thus:
'A good biographer looks at life with the precision of a historian, the insight of a psychologist and the dramatic flair of a novelist.'
Between projects, Hazel was constantly reading, reflecting and writing short pieces. She had a strong commitment to the writing life and was always considering what she would write about next. She saw the exchange of ideas as crucial to the living of a meaningful life. This is reflected in the essays in this book.
Listen to a podcast about Life as Art in Caroline Baum's biography podcast series 'Life Sentences'. It includes an excerpt of Hazel Rowley being interviewed about Beauvoir and Sartre, as well as interviews with Della Rowley and Drusilla Modjeska.
Acclaim for Life as Art
"Hazel was a gifted story-teller and her work is always fascinating and richly engaging."
— Alex Miller
…….
"This important new volume of Rowley's work is an exciting and essential addition to Australian letters, providing vital insight into the work of one of Australia's most ambitious, eloquent and exacting biographers."
— Maxine Beneba Clarke
…….
Named as her Book of the Year 2021 by biographer Brenda Niall
"This vibrant collection of essays and journal extracts gives a portrait of the writer at work, engaging with her subjects, interviewing family and friends, negotiating with publishers. Above all, it shows the intelligence, curiosity, and empathy that Hazel Rowley brought to her biographies of Christina Stead, Richard Wright, Simone de Beauvoir and Jean-Paul Sartre, and, just before her sudden death in 2011, a double portrait of the Roosevelts: Franklin and Eleanor."
— Brenda Niall, Australian Book Review, December 2021
 …….
"Rowley's books are like highly finished canvases, and the great joy of Life as Art is the view it gives us of the underpainting … Her respect for her subjects and her conviction that their lives supplied wider historical and personal insights carried her through the daunting period of research and writing …  How wonderful it would have been to read Hazel Rowley's books well into her old age, to follow all her changes. Life as Art reminds us of the measure of our loss."
— Brenda Walker, Australian Book Review, August 2021
…….
"Hazel Rowley is the most heroic figure in the history of Australian biography. … Rowley did not make things easy for herself. But she fought every day she lived to tell the truth about life and to tell it as a story, unjudgmentally. This collection includes an unusually polished story about visiting the town that inspired To Kill a Mockingbird."
— Peter Craven, Weekend Australian, Review, 24-25 July 2021
…….
"Hazel Rowley, biographer of the formidable French intellectuals Simone de Beauvoir and Jean-Paul Sartre, and US presidential couple Eleanor and Franklin Roosevelt, is nowhere near well enough known as a writer from Adelaide. A new book about her work, Life as Art, which includes speeches and essays, is a reminder of where it began for Rowley, whose father was an Adelaide University immunologist."
— Penelope Debelle, South Australian Advertiser, SAWeekend, 3 July 2021
…….
"I reviewed one of Hazel Rowley's books, Franklin and Eleanor: An Extraordinary Marriage (2010), and I called it "magnificent." The same can be said for this collection of essays that are so honest, so penetrating, so beautifully balanced between the biographer and her subjects."
— Carl Rollyson, Biographers International Organization magazine, September 2021
…….
"Life as Art, the Biographical Writing of Hazel Rowley is essential reading for anyone interested in biography as a literary form. … Life of Art had my undivided attention from the moment I started reading.
— Lisa Hill, ANZ LitLovers LitBlog