Hazel Rowley, BookForum, April/May 2007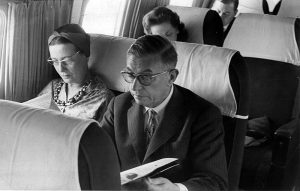 IT ALL began, as so many things do these days, with an e-mail. The sunshine was sneaking through my mustard-colored paper blinds, the jackhammers had just begun pounding at the nearby construction site, which meant it was 7 am in Manhattan, and when I swung out of bed, turned on my computer, and clicked into my e-mail, there, among the night's fresh haul in my in-box, was a message titled "Tête-à-Tête in Brazil." A man called Carlos Carvalho, from the publishing house Objetiva, in Rio de Janeiro, had written to say my book was going to be released in Brazil: Would I be willing to talk to the Brazilian press?
He meant phone interviews, of course, with me straying no further than my apartment. The "Tête-à-Tête" bit referred to my book Tête-à-Tête: Simone de Beauvoir and Jean-Paul Sartre (2005). But looking back, I believe that beguiling title line in my in-box seeded something in my head. Sure, I was willing to be interviewed, I wrote back. And I had another idea: Wouldn't it be good if we could find someone who had spent time with Sartre and Beauvoir on their trip to Brazil in 1960?
Nearly everything we know about the two-and-a-half-month trip to Brazil comes from the usual source: Simone de Beauvoir. She was an adventurous traveler,brimming with curiosity, and her travel narratives,which range from whole books to the reportages she includes in her memoirs, make engaging and illuminating reading. Her account of the Brazilian sojourn, in La Force des choses (Force of Circumstance, 1963), is no exception, with its wealth of insights, encounters, impressions. Her stated aim is to give her French readers a better sense of a country they know almost nothing about. ("Those who are bored by this piece of reporting can always skip it," she writes.) It's quite a surprise, then, when, near the end of the sixty-page Brazil section — it happens when the existential couple go inland to the Amazon jungle — the narrative becomes as feverish as a Herzog film. Beauvoir has become desperate, simply desperate, to leave Brazil. "There was the feeling of panic at being cut off from the world…I felt I had been put under a curse: I was never going to get away from here…This continent was a great net from which we were never going to escape."
Beauvoir had typhoid; anyone would have wanted to go home. But more revealing are the letters to her Chicago lover, Nelson Algren, which build up, like the fever she contracted in Amazonia, to a torrid and frenzied episode concerning Sartre and a young woman. In her memoirs, Beauvoir calls her "Christina T." In the letters to Algren, she's "the red-haired Brazilian girl."
While researching Tête-à-Tête in Paris, I had asked Sartre and Beauvoir's friends and intimates about the woman. No one was able to tell me anything about her. None of Sartre's or Beauvoir's biographers had identified her. I did not pursue the mystery: I was writing a book about Sartre and Beauvoir's relationship over fifty years, and for me, the main interest of the young Brazilian woman was that she was part of a pattern. But now that my book was coming out in Brazil, I wondered about her. If she was twenty-four in 1960, she would be seventy now. It shouldn't be all that difficult, should it, to trace the young woman who had spent a great deal of time with Sartre and Beauvoir in Recife, Bahia, and Rio?
Beauvoir tells us that she and Sartre had not been keen to go to Brazil. On evenings together in Paris, they discussed the possible reasons for their apathy. Was it physical exhaustion? Was it age that blunted their curiosity? (Sartre was fifty-five in 1960; Beauvoir was fifty-two.) Had their dismay with world politics led to a kind of personal paralysis? The colonial war France was fighting in Algeria, a more pointless and dirty war than any they had experienced before, horrified and angered them. Since it began, in 1954, they had felt like exiles in their own country. Sartre was staving off chronic depression by crunching a tube of amphetamines during the day, swallowing three quarters of a bottle of whiskey in the evening, and knocking himself out with four or five strong barbiturates at night. Beauvoir, understandably, was worried about him.
Of the various voices that finally convinced them that it was almost their duty to visit Brazil, it was their friend Jorge Amado's that was the most persuasive. For years, Amado had been saying that Sartre needed to spend more time in the third world and witness its contradictory realities close-up. He also felt that Sartre had a great deal to offer Brazilian progressives, particularly young people. Brazilian intellectual life was strongly Francophile, and the works of Sartre and Beauvoir were widely read, both in French and in Portuguese. The previous year, André Malraux, minister of culture in the new de Gaulle government, had been in Brazil, vigorously defending France's role in the Algerian War. It was Amado's view that Brazilians needed to hear from Sartre, a Frenchman who stood up for independence for Algeria. To add to their allure, Sartre and Beauvoir had recently been in Cuba, experiencing what Sartre called "the honeymoon of the Revolution," and back in Paris, still under the spell, Sartre had written a series of articles titled Ouragan sur le sucre (Storm over Sugar), in which he praised Castro to the hilt. More than ever, Jorge Amado insisted, Brazilians were eager to receive Sartre on their soil.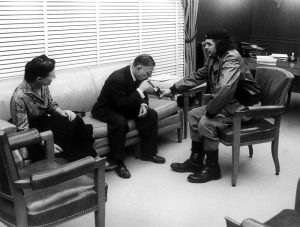 Sartre and Beauvoir arrived in Cuba in February 1960 and spent a month crisscrossing the island. Six months later, on August 13, they flew into Brazil. Their arrival was almost as dramatic as their departure would be. The long flight from Paris had been exhausting. They had landed in Lisbon, Elisabethville (the Congo), and Dakar (Senegal). Finally, their Pan Am plane hovered for half an hour over Recife while the pilot struggled to get the wheels down. On the ground, a crowd of fans and reporters looked on with horror while fire engines sped out to the runway in anticipation of a crash landing. In the end, the wheels were wrenched down, and the plane landed safely. Beauvoir writes in Force of Circumstance:
Sartre was not in very good shape; he was suffering from an attack of shingles brought on by overwork and persistent depression. I too swayed slightly when I stepped out into the fresh air and the sun. There were so many hands stretched out to us, flowers, journalists, photographers, women with bare arms, men in white jackets, the face of Jorge Amado.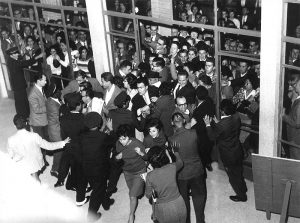 They would discover that the French government had done its best to prevent their trip. Sartre might have cut a tiny figure on the tarmac, but he was the most prominent intellectual in the world, and he never wasted an opportunity to denounce the Algerian War and colonialism generally. In Brazil, whenever Sartre gave a talk, there were capacity crowds, with people outside, unable to get in. Beauvoir spoke several times on "The Condition of the Modern Woman," encouraging Brazilian women to stand up for their rights and to integrate themselves into the political, economic, and cultural spheres, which were still entirely dominated by men. Just as the French government had feared, the Brazilian press went berserk.
While he was in Brazil, Sartre's reports on Cuba were hastily translated and published in Ultima Hora, as well as in book form. When Sartre signed copies in São Paulo, there was a stampede that intellectuals of a certain age still recall with bemusement and wonder. A debate with a group of Brazilians was televised live, nationwide — Sartre's first appearance on television. For more than three hours, he discussed Cuba as a model for South America and the use of torture by the French in Algeria. He urged Brazilian progressives to unite in the struggle against military buildup and atomic war and to assume the role of spokesmen for the third world. Afterward, he told friends he was astonished that he was able to say such things, uncensored, on national television.
It was on their second or third day in Recife that Sartre and Beauvoir met Christina T., a journalist who interviewed Sartre. He liked her, and she soon found herself escorting Sartre and Beauvoir around Recife. Lucia, her older sister (a teacher of Spanish), came too.
Beauvoir had, as usual, done a vast amount of reading about the country she was visiting. In her eyes, Recife, the capital of Pernambuco, had not changed much since the plantation days she had read about in Gilberto Freyre's 1933 classic, The Masters and the Slaves. "In the Northeast," writes Beauvoir, "a young girl — even if she lives in a favela — has no chance whatever of marrying if she isn't a virgin; she is kept under strict surveillance by those around her." And yet, she noted, Christina and Lucia, who came from an influential Catholic family, enjoyed a certain amount of freedom. The girls had traveled to Europe, they owned a car (in which they all went sightseeing), and Christina, at twenty-four, even managed the family's luxury hotel in the mountains near Recife. The picture Beauvoir paints of Christina is ambivalent, to say the least:
"When I first took on the hotel," Christina told us, "I was still very young, and I wanted to be thought of as a hard taskmaster. I made my employees work as much as possible for the least possible money. Then I saw how they lived …" She was a sincere Catholic, and revolted by social inequalities. On Sunday morning she went sailing with the most exclusive club in town and raced her boat passionately; but she would quarrel with the other members and, generally speaking, with all the people of her own class. She drove like a fury through the residential district of Recife, with the express purpose of frightening the pedestrians. "They have to be reminded that they're mortal," she said with a laugh.
When they flew to Bahia, Amado's hometown, Amado also bought tickets for Christina and Lucia. The Universidade Federal da Bahia put a minibus and chauffeur at their disposal, and every day for a week, with Amado at the helm, the little group would rattle down the back roads of Bahia (the bumps caused havoc with Sartre's shingles) and experience the reality of Brazil.
After Bahia, Christina joined them in Rio, this time escorted by her mother. She did not accompany them to Brasília, which had just replaced Rio as the nation's capital, but Sartre had plans for her to go with them to Amazonia. From her hotel room in Bras'lia, on September 23, Beauvoir wrote to Algren:
You'll be proud of Sartre. He decided it was not enough to have one dark Algerian girl, one fair-headed Russian, and two fake blondes. What was he lacking? A red-headed one! … She is twenty five and a virgin…In the north of Brazil, well-bred girls don't sleep with men. I like her very much, but I am scared of what is going to happen again to crazy Sartre if he succeeds. He doesn't know himself what he exactly wants, but he [sic] going to meet her again in Amazonia, and if the affair comes to be serious, so what? I thought you would enjoy learning these [sic] news.
• • • •
Beauvoir and Sartre went to Amazonia alone. In Belém, their hotel rooms were like Turkish baths, and in the air-conditioned bar, they shivered; in Manaus, they froze in their air-conditioned rooms and sweated in the bar. "At six in the evening," Beauvoir writes in Force of Circumstance, "when the sun was snuffed out like a candle, a new wave of heat rose up from the ground, as dense as the night." It was too hot to eat: The saliva dried inside their mouths. Whether it was because Beauvoir was sick (which is what she says) or because Sartre was lovesick (which she does not say), they left after a few days. It was four in the morning, Beauvoir tells us, when they boarded a plane to Recife. The journey, which involved landing at several small airports, lasted eighteen hours. The heat was suffocating. Beauvoir had a fever. Christina met them at the airport in her car. Then comes one of those passages, swollen with ambiguity:
I went with them to a restaurant despite my fatigue, since it is improper in the Northeast for a man to go out alone in the evening with a young woman. For the same reason I took part in the excursion Christina had planned for us next day. We were glad to see her again. Her rebellions had as much real depth as impetuosity and drew on a great fund of natural generosity; they were not directed at the conformism of her immediate circle — which she found restricting — but against injustice…She was always bursting with life, she had gaiety and humor, though underneath lay a basic melancholy, for she felt very much alone.
That evening, Beauvoir was "burning hot." Christina's brother, a medical man, called in a colleague, who confirmed that it was typhoid. They took her to the hospital for tropical diseases. "I shall never forget those few days, the feeling of being in hell, eternally." The hospital was noisy, she could not sleep, the food was bad, and, she writes, "I had things on my mind."
There had been worried letters and telegrams from friends in Paris. Before they left, Sartre and Beauvoir had signed the "Manifesto of the 121," demanding independence for Algeria and advocating insubordination for French military men. Sartre, as the most prominent signatory, was widely accused of treason. At the same time, French newspapers were giving front-page coverage to the trial of Francis Jeanson, a member of the editorial board of Les Temps modernes (Sartre was editor in chief), who had worked for the Algerian National Liberation Front. In court, one of Jeanson's defense lawyers read out a letter from Sartre. "If Jeanson had asked me to carry a suitcase or to give sanctuary to Algerian militants," he'd written, "I would have done it without hesitation." War veterans marched down the Champs-Elysées, shouting, "Kill Sartre!" Claude Lanzmann phoned them, urging them to fly into Barcelona, not Paris.
One right-wing Brazilian newspaper hinted that Beauvoir had invented her illness in order to postpone their return to France and possible arrest. This was insulting. But there was something else that upset Beauvoir. Just before she came to Brazil, Algren had spent five months with her in her Paris apartment. They had not seen each other for nine years and had been nervous about their meeting. (Between 1952 and 1958, Algren was unable to procure a passport from the US State Department.) Throughout the Brazilian trip, whenever they arrived in a new place, Beauvoir would turn up anxiously at the local poste restante. There were letters from other friends, but from Algren, silence. Her old torment returned, an agony she had portrayed in graphic terms in Le Deuxieme Sexe (The Second Sex, 1949). The tragedy, as she saw it, was that women lost their desirability well before their desire. They had only to look in the mirror to see it coming. "Long before the eventual mutilation, woman is haunted by the horror of growing old."
In her memoirs, Beauvoir attributes her despair mostly to Sartre's self-destructive behavior. While she was tossing and turning in her hospital bed, she writes, he was drinking scotches at his hotel bar (in fact, he was mostly nearby at the Bar Savoy, a famous Recife watering hole), then taking barbiturates to get to sleep. In the mornings, when he visited her in the hospital, he was so groggy that he staggered. Once, he almost sent her intravenous feeding tubes flying.
She told her doctors she could not possibly remain in that hospital any longer; she wanted to go back to the Grande Hotel, where Sartre was staying. They reminded her that she was contagious; the hotel would not accept her. It was Christina who came up with a solution. Her family owned a house in Boa Viagem; Beauvoir could stay there. Beauvoir does not seem to have felt as grateful as she might have:
I spent three days in a room full of antique furniture and scarcely cooled at all by its primitive and noisy air conditioner…Early every morning, some cousins of the T. family who lived opposite would have breakfast sent over to me…One evening the young Doctor T. came to examine me; he took rather a long time, so I told his sisters and Sartre to go off and eat without waiting for him. They refused; it was not permitted to leave a man alone in a house with a woman, even one of my age. They didn't subscribe to these prejudices themselves, but the street was full of cousins who were keeping an eye on them.
It was indeed beginning to seem as if a curse had been put on them. When they were finally in the airport lounge, waiting to be called, a tornado swept over the runway. Hours later, they were on the tarmac, and the engine spat flames. Beauvoir could scarcely believe it when they took off: "At last the coast was behind us! At last!"
A few days later, she wrote to Algren from Havana. In the "hellish town" of Recife, "Sartre went mad," she told him. Sartre's daytime drinking, combined with the sleeping pills he took at night, made him walk in a permanent zigzag. ("That enraged me but I could do nothing.") While she was confined to her bed, he had spent long days with the redhead:
The girl was very much interested in Sartre, she has will and personality, and she saw him a lot; but she resented being blamed by her family, her friends, and the whole town. Then she believes in God, and when she understood Sartre should not have hated to sleep with her, she though[t] he was the Devil himself.
On their last night in the town, they had drunk too much, she told Algren.
The girl drank too, when I had recovered we spent a crazy night, she broke glasses in her naked hands and bled abundantly, saying she should kill herself because she loved and hated Sartre and we were going away the next day. I slept in her bed, holding her wrist to prevent her to jump [sic] by the window…She will come to Paris and Sartre says maybe he will marry her!
In the published Sartre-Beauvoir opus, there is one final glimpse of "Christina T." It's late summer 1974, and Beauvoir and Sartre are in Rome. Sartre has been blind for a year now, and Beauvoir is trying to rally him. Over several weeks, she will interview him about his life. One of the topics they discuss is Sartre's relationships with women. He comments that charm and beauty had always been important to him.
BEAUVOIR: Were there not women you found attractive for reasons other than strictly feminine qualities — strength of character, something intellectual and mental, rather than something wholly to do with charm and femininity? … I'm thinking about … one with whom you did not have an affair but whom we liked very much — whom you liked very much — Christina.

SARTRE: Yes, I valued Christina's strength of character … At the same time it rather took me aback.
• • • •
A breakthrough. A feisty Brazilian journalist, Lúcia Guimarães, who works for a Brazilian television program based in New York, had just finished my book and wanted to interview me. She had even thought of the perfect backdrop: Chumley's, a bar on Bedford Street, in the Village, where Beauvoir spent time in the spring of 1947. "There's a photo of Simone de Beauvoir among the writers pasted on the walls," she told me.
(I couldn't remember Beauvoir ever mentioning a place called Chumley's. After our phone call, I leafed through my copy of America Day by Day [L'Amérique au jour le jour, 1948] and understood why. Beauvoir twice mentions the bar on Bedford Street but calls it Chamby's. "The walls are decorated with old book jackets, and there's no music, which promotes conversation," she writes. "The room is square and utterly simple, with its little tables lined against the walls, but it has something so rare in America — atmosphere." One night, she went there with friends, eating hamburgers and drinking whiskey until five in the morning. "Perhaps it would have been better to have gone to sleep early," she chides herself.)
Guimarães and I, still on the phone, were discussing the focus of our interview the next day, and I mentioned Christina T. I asked whether she knew any journalists in Recife who might be able to help me trace her. "When exactly were Sartre and Beauvoir in Brazil?" Guimarães asked me. I realized she was sitting at her computer while we spoke and Googling Portuguese-language websites. "I've found her!" Her voice, usually vigorous, had become a bit faint. I pressed the receiver to my ear. "Born in 1936," said Guimarães. "She started out as a journalist and became a federal congresswoman. Rare for a woman in Brazil. She seems to be pretty famous. On the left. A feminist."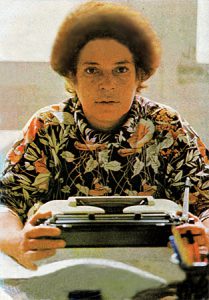 The construction noise next door had waned, and I could hear Guimarães clicking into different sites. "Cristina Tavares is her name. Oh, here's a photo! She's speaking into a megaphone. Afro hair. She died in 1992. Cancer. She was fifty-six. She wrote a book about it, her battle with cancer." She was getting excited now. "They're talking about the letters Sartre wrote her. Her nephew has them. He's an architect, it says here. He lives in São Paulo."
The next day, in our cab on the way down to Chumley's, Guimarães agreed with me. I should get myself to Brazil and find out more
• • • •
I spent three weeks in Brazil. The country was drenched in World Cup fever. It was June, winter in the Southern Hemisphere, but the heat was as sweltering as in New York, and it took me by surprise when darkness descended at five-thirty. In Recife, the manager of my pousada warned me about being mugged (Brazilians say "mugg-ed"). Tête-à-Tête was on the list of best sellers. I saw it in bookstore windows, alongside the memoirs of former president Fernando Henrique Cardoso, Joan Didion's O Ano do Pensamento Mágico, and O Código Da Vinci. I saw it again inside, piled up in tall, artistically arranged stacks. Every writer's dream.
All the bookshops I stepped into, small and large, had at least a dozen books by Sartre and a dozen by Beauvoir. Carlos Carvalho reminded me that if the US is famous for its lack of interest in what it calls "foreign books," Brazil is the opposite: Translations outnumber books by local writers. Francophilia is alive and well. When I visited various press archives to find out more about the 1960 visit, I was astonished by the interest in Sartre and Beauvoir over the years.
Back in 1960, Brazilians were struck by Sartre and Beauvoir's curiosity, their genuine desire to understand the country. Articles talk about Sartre's cordiality, his generosity with his time, his complete lack of vanity. He seemed happiest, they noticed, when talking with young people.
Everyone who met them noticed that the French couple liked to drink. On their first day in Recife, a journalist joined them for lunch and was amused by their first impressions of the strong local beverages. Sartre ordered a glass of sugarcane brandy, took out his notebook, and wrote down "Beauvoir sampled her first batida (cachaça and lemon juice). Simone tastes it, takes one, takes another. By the end of lunch, she has drunk five of them."
More than one Brazilian noticed that Sartre wore the same jacket for days on end, and in restaurants his cigarette ash would fall messily over his clothes, the table, and the floor. Beauvoir played a strongly maternal role toward him. In his memoirs, Fernando Henrique Cardoso observes: "Simone … treated Sartre more like a baby than a lover." Back in 1960, Cardoso was a young sociologist in São Paulo, one of the members of a collective called the Marxist Seminar, with which Sartre met several times. Another member of the group, the philosopher Bento Prado Jr., e-mailed me, in French: "What struck us about Sartre and Beauvoir's relationship was the control she exerted over him. On those evenings when we chatted in groups, we drank whiskey. After one or two glasses, Sartre asked for another. Simone would roundly say, 'Non!' Sartre would then ask for 'a half glass.' That way, he finally obtained her permission."
In her memoirs, Beauvoir protects Sartre in other domains as well. While they were in Brazil, they witnessed an election campaign. It was a national election, and the race was close. Sartre took a strong position, which Beauvoir does not mention. Instead, she tells us about the arguments between the "T." sisters:
It was virtually a straight fight between Jânio Quadros and Marshal Lott; Jânio was the right-wing candidate; once in power, he would favor the interests of the great capitalists, though he had sent declarations of friendship to the Algerians and Cuba. Christina had decided to vote for him; she wore shoes decorated with the little broom that was his emblem: he was promising that he would put a stop to corruption. "He'll just put a new lot of profiteers in power," Lucia said. "He supports Cuba and Algeria, he'll do something for the peasants," Christina replied. "He's a hysteric; he's full of promises, but he won't keep them," her sister retorted. She was going to vote for Lott, as was Amado and all the Left.
We get the impression from this that Cristina Tavares was the only one of their friends to vote for the right-wing candidate, Jânio, and that history would prove her terribly mistaken. Indeed, just as Beauvoir says, the left generally voted for Lott, but Janio became president, and history did prove him a bad choice. What she does not say is that Tavares was not alone in supporting Jânio; so did Sartre. He may even have influenced her. Cardoso was one of many astonished by Sartre's position:
There was one thing that Sartre never was able to understand about Brazil. Over dinner, we spoke about the 1960 election, which pitted Jânio against a retired field marshal and former minister of war named Henrique Teixeira Lott. Sartre was bewildered by our support for Lott instead of Jânio, who had visited Cuba, after all, and on the surface appeared to be more amenable to our progressive ideas. "Jânio is a populist, and in Brazil, that's not necessarily the same as a leftist," I told Sartre. "Besides, can't you see the man is a clown?"
• • • •
Brazilians may be addicted to TV soap operas, but when it comes to the real world, they seem to me astoundingly discreet. Sartre and Beauvoir left Brazil in October 1960. Twenty-six years passed before the Jornal do Brasil wanted to know the identity of the redheaded woman. It was February 2, 1986, and the headline blazed: "Quem é a ruiva?"
A new biography of Beauvoir, by Claude Francis and Fernande Gontier, had just come out in France, which quoted Beauvoir's letter to Algren. (Her letters to him would not be published until 1998.) A female journalist based in New York rightly deduced that if anyone knew anything about an affair Sartre might have had with a red-haired Brazilian woman, it would be Amado. He was irritated by her question: "But dear woman, you call me from New York to talk about that? A love story concerning Sartre in Brazil? No, no, I know nothing; I am innocent. Besides, people can fall in love under my nose without my being the least bit aware of it."
Twenty years later, I would find myself up against the same phenomenon. At first, I thought there must be something Tavares's friends and family were covering up. "She never talked about what happened with Sartre," they told me. "She was a very private person."
Amália Maranhão was a close friend of Tavares's from the mid-'70s; they were journalists together in Brasília. One evening, they were having dinner, and Tavares said to her, "I will tell you what happened with Sartre," and then she went to the bathroom; by the time she came back, it was obvious she no longer wanted to talk about it.
• • • •
She did talk about it, once. Back in 1986, after that headline, rumors were flying. To prevent further scandal, she finally decided to speak out. On February 15, the Jornal do Brasil carried the headline "O amor brasileiro de Sartre" — "Sartre's Brazilian Love" — with a large photo of Tavares, federal deputy, age forty-nine.
She had never been Sartre's lover, she insisted. There had never been a romance. They had not even kissed. It is true that at one point the philosopher had asked her: "Would you like to have a sexual relationship with me?" Her answer had been a firm refusal.
She had known nothing about them when Sartre and Beauvoir came to Recife, nor had she been very interested. She was a journalist at the local newspaper, and because she spoke French, she was sent along as part of the group that got to interview Sartre. He had turned the proceedings around, as he liked to do, and asked each of his questioners what they thought of Amazonia. The others had said the usual things. "In Amazonia, monsieur," Tavares had said, "you will be even more bored than I imagine you are here." Sartre had instantly warmed to her rebelliousness.
Sartre introduced her to Beauvoir, and the three became friends. It stayed that way, Tavares said, until she received a telegram from Amazonia, saying they were coming back to Pernambuco and would like to see her again, but alone. She was shocked.
Beauvoir arrived with typhoid. While she was in the hospital, Sartre spent time with Tavares, alone. They talked about all sorts of things — poverty, Brazil, the third world, Cuba, and the USSR. Tavares, highly wary of communism, said she could understand certain restrictions on liberty in Cuba, because its revolution was new, but asked why there were any in the USSR, forty-three years after its revolution. Sartre explained that revolutions demand time and a new way of thinking.
Tavares loved their conversations. Sartre made her feel interesting. His questions, probing and irreverent, made her think in an entirely new way. And then came the lightning bolt. One evening, in a restaurant, he asked whether she would like to go to bed with him. He said it without charm or romanticism, she said. That was the nature of their relationship: sincerity to the point of bluntness. It did not help that he was ugly, with a wandering eye and atrocious table manners. "Are you mad?" she said. "I'm also a friend of your wife's." (Tavares would always talk as if Sartre and Beauvoir were married.)
I was so ignorant, a wild creature. In their eyes, I might as well have been an extraterrestrial being. They were twenty years ahead of their time in France, and I was twenty years behind the modern world." Tavares was brought up in Garanhuns, a coffee- and cattle-raising district in the mountains, 136 miles from Recife. In her world, it was unacceptable for a woman to smoke in public. She had never met a woman like Beauvoir. "She started to tell me about her love affair with an American writer. In front of her husband," says Tavares. "I did not understand. Neither intellectually nor emotionally nor morally."
The romance that never happened caused Tavares immense family problems. "It was as if international communism, in person, had entered the little world of Recife." They continued well after the existential couple left town. When letters from Sartre arrived from Paris, Tavares's mother treated them as if they were poison darts. Over the next twenty years, Tavares saw Sartre and Beauvoir four or five times, both in Paris and in Lisbon. In the early 1970s, she interviewed Beauvoir about the French women's movement and its efforts to legalize abortion and twice interviewed Sartre about the political situation in Portugal, now that it was finally free from fascism. As before, no one would have known she was not simply one more journalist asking questions.
Only once did the subject of the failed romance come up. Sartre was not there. The two women were alone. Beauvoir told Tavares that Sartre had been serious about marrying her. He had wanted to take her back to Paris; he thought she could complete her education there. It was she, Beauvoir, who had curbed his impetuosity, reminding him what a culture shock that would represent for a young woman from Pernambuco.
• • • •
"Dear Cristina of Pernambuco …" Five letters have survived. Three of them, two Sartre (who did, unlike Beauvoir, spell Cristina correctly), one from Beauvoir, were notes, written while they were in Brazil, making a time to meet Tavares. They are handwritten; Sartre and Beauvoir never typed. Sartre's handwriting is upright, round, and neat, like a schoolteacher's; Beauvoir's sloping scrawl is almost impossible to read. They both said "vous" to her. Beauvoir said "vous" to everyone except her friend and former lover Claude Lanzmann, who insisted on "tu." As for Sartre, he said "tu" to women only after he had slept with them.
A twelve-page letter, written when he got back to Paris in December, shows that Sartre had taken his rebuffal with good grace. This might appear surprising from a man who had gone so far as to envisage marriage, but after all, it was by no means the first proposal he had made, and Beauvoir had always saved him before he got hitched, and probably he had known she would save him again. He thanked Tavares for her letters. He could see she was anxious and a little unhappy. It was hard for him to help her from so far away, but she should remind herself that she had come this far by herself. He wanted to talk to her today about Russia. He wanted to explain how to read books that say contradictory things about the same subject. Russia was tricky. They had talked about it in Recife. (There follow six pages on Russian history, explaining the need for the revolution. He did not want to justify the Stalinists, but it was complex, and the fact remained that if they were hoping for a radical transformation in Brazil, it was thanks to the USSR and China.) He had drawn up a reading list for her. If she could not find the books in Portuguese, he would send them from France. He had shown the list to Beauvoir, who had added a few more books.
There were twenty-five in all. In terms of left-wing reading generally, Sartre recommended that Tavares regularly read Les Temps modernes. To become better acquainted with Marxism, she should read the four volumes of Capital. Other important books were Trotsky's My Life and Isaac Deutscher's biographies of Stalin and Trotsky. On the subject of underdevelopment and the third world, he recommended The Geopolitics of Hunger, by her fellow Brazilian Josué de Castro; C. P. Snow's recent book The Two Cultures; and Beauvoir's La Longue Marche (1957), about China in 1955. On the USA, there was William Whyte's Organization Man. André Schwarz-Bart's novel The Last of the Just told the true history of the persecution of the Jews. Stendhal's The Red and the Black was a must. Finally, since Cristina agreed with him that "man is a useless passion," she might like to read Nausea, his first novel. ("I don't think it's translated. If not, I'll send it to you.")
"That's just a start," he wrote. He would send more suggestions in future letters, but for now, he did not want to overwhelm her. Tomorrow, he would tell her about their return to Paris and explain why he had not succeeded in having himself arrested. "Till tomorrow, Cristina. Your friend, J-P Sartre."
• • • •
The final surviving letter is from Beauvoir, written in December 1967. She and Sartre were just back from Copenhagen, where they had attended the last session of the Russell Tribunal, protesting the Vietnam War. They had heard terrible things about torture by the American army and seen some horrifying film footage. She was sending Tavares the new issue of Les Temps modernes, on Brazil. They were thinking of her, and they sent their warmest regards.
• • • •
Throughout the military dictatorship from 1964 to 1985, Cristina Tavares was active in the opposition movement, the Partido do Movimento Democrático Brasileiro. In 1978, she ran for and won a seat in the Brazilian Congress. More than ever, politics became her life; she was steeped in it. She fought against poverty, spoke out against multinationals stealing the country, and helped found the National Council of Women's Rights. Committed and courageous, she was intent on improving the lot of her fellow Brazilians. She was aware that this was not the kind of revolutionary politics that interested Sartre. He once said to her: "You're a deputy for Garanhuns, going along with elections as tainted as these?"
• • • •
José Tavares Correia de Lira lived in an airy old apartment building overlooking the city center in São Paulo. He photocopied the five letters for me and showed me the political biography of his aunt, Perfil Parlamentar: Cristina Tavares, by Teresa Cruvinel. He loved to talk about Cris, as he called her. It's true, he said; she never talked about her private life and only ever mentioned Sartre as a mentor she admired. Cris was consumed by politics and devoted to her family. As a politician, she spent a lot of time in Brasília, but each weekend (despite her fear of planes), she flew back to Recife, where she lived with her mother. Her nephews and nieces adored her. She was like a mother to them, only far more fun. With her, they had adventures. They went sailing and camping. They stuck up posters for her election campaigns. Did she drive fast? Yes, fast cars were a hobby of hers; she raced them.
One evening, José's sister, her husband, and aunt picked me up — and we drove to a charming restaurant in Olinda, the colonial town, five miles away, that Sartre and Beauvoir loved. The publication of Tête-à-Tête in Brazil had given rise, once again, to a certain amount of sensationalist tabloid conjecture about Tavares. Over dinner, Lucia remarked: "All this talk in the newspapers about an alleged affair with Sartre, it's such an irony. There was never anyone less interested in sex, or talking about sex, than Cristina."
They brought along older photo albums. One photograph, taken in Recife in 1960, showed young Lucia Tavares, small, slim, and ravishingly beautiful, bending over Sartre, who is sitting at a table, autographing her copy of La Mort dans l'âme (Troubled Sleep, 1949). She showed me the book, now tattered, with its warm inscription. ("Pour Lucia, avec la reconnaissance et l'amitié, J-P Sartre.") Lucia explained that she had given the book to Cristina, and showed me the blank page at the back of the book where her sister had hastily penned some questions for her interview with Sartre. "Apart from material problems, what are the problems that have most afflicted humanity in the 20th century? What do you think of totalitarian regimes? Do you think freedom is essential to man? Do you have confidence in mankind? When you say that marriage is not essential to women, are you also talking about sexual relationships?"
I asked Lucia whether she had a photo of Cristina with Sartre in 1960. "No," she said, with a smile. "My sister was nothing of a narcissist."
• • • •
In the press files, there was a photo of Tavares with Sartre. It was taken much later, in the late 1970s, in a Paris café, and the photographer clearly took them unawares. Sartre is blind, wearing dark glasses, and has a patient look on his face. Tavares stands side-on to the camera, in a leather jacket, and has her hands on her hips, as if she's bossing Sartre around. The photograph appeared in the Recife newspaper, the Jornal do Commercio, on June 21, 2005, the centenary of Sartre's birth. The caption reads: "Cristina Tavares in conversation with her 'maestro,' Jean-Paul Sartre, in the bar of the Grande Hotel, in Recife, October 1960."
• • • •
My Continental flight to New York sped down the runway and lifted into the air. The sun was setting over Rio; the beaches and islands were suffused in a golden pink glow. How easy it was to fall into clichés, I thought to myself. Brazil — that captivating, mysterious, troubled land?I felt as if I were leaving behind a love affair. Then the plane turned sharply, and the coast was behind me.
–––––––––––––––––––––––––––––––––––
Hazel Rowley is the author of Tête-à-Tête: Simone de Beauvoir and Jean-Paul Sartre (Harper Collins, 2005).