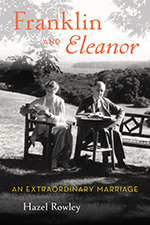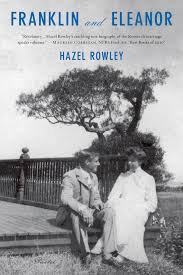 FRANKLIN DELANO and Eleanor Roosevelt's marriage is one of the most celebrated and scrutinised partnerships in presidential history. It raised eyebrows in their lifetimes and has only become more controversial since their deaths. From FDR's lifelong romance with Lucy Mercer to Eleanor's purported lesbianism — and many scandals in between — the American public has never tired of speculating about the ties that bound these two headstrong individuals. Some claim that Eleanor sacrificed her personal happiness to accommodate FDR's needs; others claim that the marriage was nothing more than a gracious façade for political convenience.
In this groundbreaking account of the marriage, Hazel Rowley describes the remarkable courage and lack of convention — private and public — that kept FDR and Eleanor together. She reveals a partnership that was both supportive and daring. Franklin, especially, knew what he owed to Eleanor, who was not so much behind the scenes as heavily engaged in them. Their relationship was the product of FDR and Eleanor's conscious efforts—a partnership that they created according to their own ambitions and needs.
In this dramatic and vivid narrative, set against the great upheavals of the Depression and World War II, Hazel Rowley paints a portrait of a tender lifelong companionship, born of mutual admiration and compassion. Most of all, she depicts an extraordinary evolution — from conventional Victorian marriage to the bold and radical partnership that has made Franklin and Eleanor Roosevelt go down in history as one of the most inspiring and fascinating couples of all time.
Watch YouTube videos of Hazel Rowley interviewed, in two parts, about this inspiring couple. • Part I: Politics • Part II: Personal Life
Acclaim for Franklin and Eleanor
Bestseller for the week 12 December 2010
— Los Angeles Times
……….
Top Ten Book of 2010
— Maureen Corrigan, 'Fresh Air', National Public Radio
……….
"Franklin and Eleanor is a deceptively easy read and a very enjoyable introduction to one of the most influential political partnerships of the twentieth century. Perhaps its greatest achievement is to show us the Roosevelts eye-to-eye and heart-to-heart in the early and middle phases of their marriage, loving each other but accommodating each other as well."
— Sybil Nolan, Readings, Melbourne
……….
"Franklin & Eleanor: An Extraordinary Marriage is a deft and hypnotically readable history of the Roosevelt era (so resonant for the Obama presidency—and marriage—and for politics internationally). It is also a compelling group portrait of the main players, with an inclusive vivacity and psychological tact that reminds one of Velasquez.
"Hazel Rowley … writes with narrative verve, in dramatic vignettes. She also has the knack of being definite and yet unobtrusive, thereby allowing her characters to round before one's eyes. And she has timed her study perfectly: if America can even contemplate a Palin presidency in 2012, it is time to look back to the way a very different American leader used his intelligence, experience, rhetorical skills and political acumen to bring his country out of the Great Depression and through World War II."
— Morag Fraser, The Age Melbourne
……….
"Rowley is a biographer of the very first order …. This book will provide a new generation with a succinct account of the lives and time of two Americans of unquestionable human worth."
— Carmen Callil, The Monthly
……….
"This enticing new biography … reads like a wonderful novel at times …. A blend of characteristics — Franklin's flamboyant confidence, Eleanor's passion for social justice — generated the exceptional energy it took for the pair to change the world. Their ability, so well captured in these pages, to gather friends and followers into a coherent and powerful community and their willingness to exchange affection until the very end remain awesome. This is much more than a book about politics."
— Carolyn See, The Washington Post
……….
"One of the most amazing anecdotes in Hazel Rowley's crackling new biography of the Roosevelt marriage … reveals the enlightened disregard Franklin and Eleanor had for conventional categories … Rowley has chronicled out-of-the-box relationships before: Her last book was a highly acclaimed biography of the partnership between Jean-Paul Sartre and Simone de Beauvoir. Nothing against the French, but there's no contest here. While Sartre and de Beauvoir were hashing over gender roles in sequestered cafes, Franklin and Eleanor had already forged their own cutting-edge version of a marriage, despite living for nearly four terms in the fishbowl of the White House."
— Maureen Corrigan, 'Fresh Air', National Public Radio
……….
"Hazel Rowley has gone beyond the gossip and gives us a book of real insight and a tale that is as sympathetic as it is cautionary. I will go so far as to say that if you are going to read only one book about this extraordinary couple, this is the one."
— James Srodes, The Washington Times
……….
"A…powerful union comes under scrutiny in Hazel Rowley's sensitive, hugely compelling portrait of Franklin and Eleanor Roosevelt, Franklin and Eleanor: An Extraordinary Marriage (Farrar, Straus, and Giroux), whose loving but decidedly unorthodox marriage was plagued by scandals (including Franklin's long-standing affair with her social secretary), none of which made them less adored by the American public."
— Megan O'Grady, Vogue
……….
"That Franklin and Eleanor Roosevelt formed a splendid partnership is not news. But Hazel Rowley, author of acclaimed biographies of Christina Stead, Richard Wright, and Jean Paul Sartre and Simone de Beauvoir, dramatizes in intimate detail just how close the connection between husband and wife became, and how incredibly generous they were with one another …. Franklin Roosevelt and Eleanor Roosevelt, upper New York State aristocrats, became more attuned to the lives of the American people than any other presidential couple — not a claim Rowley makes, but one that becomes evident in reading her magnificent biography."
— Carl Rollyson, Minneapolis Star Tribune
……….
"Here is the most consequential love story of the twentieth century, told with verve, swift narrative drive, and clear-eyed fondness for the lovers. 'Clear-eyed' because Eleanor and Franklin Roosevelt's marriage was as difficult as it was momentous: How many husbands have ever had to suffer being nagged about the fate of Yugoslavia? How many wives have had to endure the deflections and evasions of a dissimulator as artful as FDR? Hazel Rowley tells a tale as full of betrayals as it is of a fundamental fidelity, while detailing a partnership so powerful that it has shaped the lives of all of us who read about it today."
— Richard Snow, former editor of American Heritage and author of A Measureless Peril
……….
"A distinguished biographer's fresh take on the marriage of the Roosevelts, the most dynamic couple ever to occupy the White House … A focused account of a complex marriage that continues to fascinate."
— Kirkus Reviews
……….
"Franklin and Eleanor is a fascinating read, rich with insight and detail. Here is a political marriage that rose above politics; a partnership that was driven as much by idealism as by ambition; and a friendship that survived despite all. Hazel Rowley is a wonderful writer with a gift — rare among historians — for entertaining her readers."
— Amanda Foreman, Georgiana: Duchess of Devonshire
……….
"Theirs was one of the great marriages in history, one that reshaped the lives of millions in their own time and beyond. In Hazel Rowley's engaging new book, Eleanor and Franklin Roosevelt come alive anew in all their complexity, humanity, and greatness."
— Jon Meacham, Pulitzer Prize-winning author of Franklin and Winston:
An Intimate Portrait of an Epic Friendship
……….
"Without resorting to sensationalism, the author turns a familiar story into a page turner."
— William D. Pederson, Library Journal
……….
"The author's ambition is commendable, her admiration for both Roosevelts evident."
— Los Angeles Times
……….
"Hazel Rowley's new double portrait displays the strength, courage, and flexibility of this remarkable alliance between these talented distant cousins, both of them pathfinders in a perilous time. Easy to recommend."
— Barnes & Noble review