New Hazel Rowley book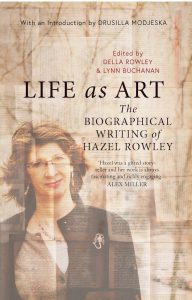 We are excited to announce that Life as Art: The biographical writing of Hazel Rowley was released on 2 July 2021. With an introduction by Drusilla Modjeska, this collection of short pieces has been edited by Della Rowley and Lynn Buchanan. It includes some previously unpublished essays, talks and Hazel's journal entries, and provides a wonderful insight into the craft of biography.
As Alex Miller says on the front cover, 'Hazel was a gifted story-teller and her work is always fascinating and richly engaging'.
This collection of Hazel's work is published by MUP under their Miegunyah Press imprint. For more information, see their website and order your copy now. The South Australian Advertiser ran an article on Hazel and this new book in their 'SA Weekend' section on 3 July 2021. The collection has also received great reviews in the August edition of Australian Book Review and the Review section of the Weekend Australian on 24-25 July 2021.
Gabrielle Carey longlisted for award
In 2020 we gave Gabrielle Carey a Highly Commended award. Her book Only Happiness Here: In search of Elizabeth von Arnim has been longlisted for the 2021 Mark and Evette Moran Nib Literary Award. The shortlist will be announced on 27 September 2021 and the winner in November 2021.
Eleanor Hogan's book shortlisted
We are pleased to announce that Eleanor Hogan, our 2019 Fellow, has been shortlisted for Into the Loneliness: The unholy alliance of Ernestine Hill and Daisy Bates in the 2021 Queensland Literary Awards, the University of Queensland Non-Fiction Book Award. Winners will be announced on Thursday 9 September 2021 at a live-stream event.
New Richard Wright novel
A previously unpublished novel by Richard Wright, The Man Who Lived Underground, has been published this year. The novel, which focuses on race relations and police violence, was rejected by publishers at the time it was written in the 1940s. Thanks to the persistence of Wright's daughter, Julia Wright, it is finally being published by the Library of America. It seems the time is now right for this novel. As Wright's biographer, Hazel would have been thrilled.
Biographers International Hazel Rowley Prize

The Biographers International Organisation (BIO) have awarded the 2021 Hazel Rowley Prize for Best Proposal from a First-time Biographer to Tanya Paperny for her proposal for Tender/Fierce: The Life and Death of My Revolutionary Prababushka, about her great-grandmother Tatiana Ivanovna Shatalova-Rabinovich, a political activist who was killed by the Stalin regime. BIO established the prize in 2013 in memory of Hazel Rowley.
Congratulations to Arnold Zable
One of our previous guest judges Arnold Zable has been presented with the 2021 Australia Council Award for Lifetime Achievement in Literature. The award was presented at an online event in April 2021. You can see Arnold in conversation with publisher Michael Heyward. Arnold was a generous and committed judge and we are honoured to have him as part of our Fellowship. We are thrilled to see his work being recognised by the Australia Council.
2021 Hazel Rowley Fellowship winner
The winner of the 2021 Hazel Rowley Literary Fellowship, worth $15,000, is Mandy Sayer, who is writing a biography of the McDonagh sisters, Australia's first female filmmakers.
The announcement on 3 March at Adelaide Writers Week followed the Hazel Rowley Memorial Lecture, given by biographer and 2018 Hazel Rowley Fellow, Jacqueline Kent. In her talk, 'Making Characters: biography and memoir', Jacqueline discussed the different challenges  of each, and what happens when you become a character in your own story and what happens when you switch from describing others' lives to tackle your own.
More information about our 2021 winner can be found on our Fellowship page.
Ten years of supporting Australian biographers
Our wonderful fund managers, Australian Communities Foundation, have celebrated our 10-year anniversary of creating the Fellowship to honour Hazel Rowley, who died on 1 March 2011. On the day we announced our 10th Fellowship winner, ACF published an article about us in their online newsletter.
Fellowship Events >