2022 Fellowship shortlist announced

Ten Australian writers have been shortlisted for the eleventh Hazel Rowley Literary Fellowship, now worth $20,000:
Sylvia Martin, writing about artists Eirene Mort and Nora Kate Weston.
Kelly Gellatly, for a biography of artist Rosalie Gascoigne.
Michelle Nayahamui Rooney, writing about her mother Nahau Rooney, one of the first women elected to the Papua New Guinea parliament.
Melanie Duckworth, for a biography of children's author Christobel Mattingley.
Lorin Clarke, writing a memoir of her father, satirist and comedian John Clarke.
Mark Mordue, for a biography of singer-songwriter Nick Cave.
Aunty Joy Murphy and Jessica Horton, jointly writing a biography of Jarlo Wandoon, Aunty Joy's father.
Naomi Parry, writing about the life of Gai-mariagal man Musquito, who was killed in Tasmania in 1825.
Hannah Fink, also for a biography of artist Rosalie Gascoigne.
The Fellowship winner will be announced  on Wednesday 2 March 2022. We are hoping to make the announcement at a live event at the Wheeler Centre, Melbourne. Our judges for the 2022 Fellowship are Jeff Sparrow, Clare Wright, Della Rowley and Lynn Buchanan.
Maxine Beneba Clarke wins prize
Many congratulations to our 2014 Fellow, Maxine Beneba Clarke, who has won the Civic Choice Award in the Melbourne Prize for Literature 2021. This Award is given to the finalist, in the Melbourne Prize for Literature 2021 and Writer's Prize 2021, with the highest number of votes received from the public.
Hazel Rowley Literary Fellowship increases to $20,000
Thanks to our generous benefactors, we have been able to increase the value of the Fellowship to $20,000. We are incredibly pleased to provide more support to writers in these difficult times. It's been wonderful to see how many writers we have been able to help finish their projects and achieve publication over the past ten years. Each year we look forward to seeing the varied and interesting books our Fellowship applicants are working on.
New Hazel Rowley book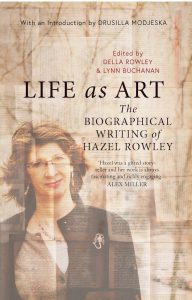 We are excited to announce that Life as Art: The biographical writing of Hazel Rowley was released on 2 July 2021. With an introduction by Drusilla Modjeska, this collection of short pieces has been edited by Della Rowley and Lynn Buchanan. It includes some previously unpublished essays, talks and Hazel's journal entries, and provides a wonderful insight into the craft of biography.
As Alex Miller says on the front cover, 'Hazel was a gifted story-teller and her work is always fascinating and richly engaging'.
This collection of Hazel's work is published by MUP under their Miegunyah Press imprint. For more information, see their website and order your copy now. The South Australian Advertiser ran an article on Hazel and this new book in their 'SA Weekend' section on 3 July 2021. The collection has also received great reviews in the August edition of Australian Book Review, the Review section of the Weekend Australian on 24-25 July 2021, and the September edition of the Biographers International Organization magazine.
Caroline Baum has interviewed Della Rowley and Drusilla Modjeska about Life as Art for her biography podcast series 'Life Sentences'. It's well worth a listen and includes an excerpt of Hazel being interviewed about Beauvoir and Sartre.
Gabrielle Carey shortlisted for award
In 2020 we gave Gabrielle Carey a Highly Commended award. Her book Only Happiness Here: In search of Elizabeth von Arnim has been shortlisted for the 2021 Mark and Evette Moran Nib Literary Award. The winner will be announced on 24 November 2021.
Eleanor Hogan's book shortlisted
We are pleased to announce that Eleanor Hogan, our 2019 Fellow, was shortlisted for Into the Loneliness: The unholy alliance of Ernestine Hill and Daisy Bates in the 2021 Queensland Literary Awards, the University of Queensland Non-Fiction Book Award.
New Richard Wright novel
A previously unpublished novel by Richard Wright, The Man Who Lived Underground, has been published this year. The novel, which focuses on race relations and police violence, was rejected by publishers at the time it was written in the 1940s. Thanks to the persistence of Wright's daughter, Julia Wright, it is finally being published by the Library of America. It seems the time is now right for this novel. As Wright's biographer, Hazel would have been thrilled.
Biographers International Hazel Rowley Prize

The Biographers International Organization (BIO) have awarded the 2021 Hazel Rowley Prize for Best Proposal from a First-time Biographer to Tanya Paperny for her proposal for Tender/Fierce: The Life and Death of My Revolutionary Prababushka, about her great-grandmother Tatiana Ivanovna Shatalova-Rabinovich, a political activist who was killed by the Stalin regime. BIO established the prize in 2013 in memory of Hazel Rowley.
Congratulations to Arnold Zable
One of our previous guest judges Arnold Zable has been presented with the 2021 Australia Council Award for Lifetime Achievement in Literature. The award was presented at an online event in April 2021. You can see Arnold in conversation with publisher Michael Heyward. Arnold was a generous and committed judge and we are honoured to have him as part of our Fellowship. We are thrilled to see his work being recognised by the Australia Council.
Fellowship Events >