2023 Fellowship

Applications for the 12th Hazel Rowley Literary Fellowship are now closed. The Fellowship shortlist will be announced in January 2023 and the winner  will be announced at Adelaide Writers Week in March 2023. Our judges for the 2023 Fellowship are Jeff Sparrow, Clare Wright, Della Rowley and Lynn Buchanan.
A big thank you to all those who applied this year.
Mandy Sayer book launched 23 November 2022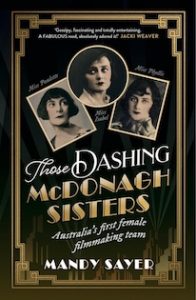 Those Dashing McDonagh Sisters  by our 2021 Fellow, Mandy Sayer was launched in Sydney on 23 November by Gillian Armstrong. This is the remarkable story of three trailblazing sisters who were the first women in Australia to form their own film production company. Phyllis, Paulette and Isabel McDonagh produced four feature films and a number of documentaries in the 1920s and 1930s. Their work is still shown internationally, to critical acclaim.
The book is  published by NewSouth Books and has been acclaimed for bringing the story of these important filmmakers to light. For the most recent review, click here.
Jo Oliver's Adelaide Perry biography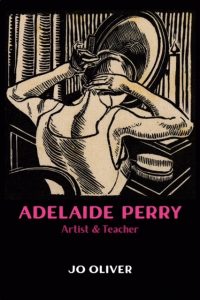 One of our 2021 shortlistees, Jo Oliver, is being published in October by Australian Scholarly Press. Her biography Adelaide Perry: Artist and teacher will be launched at the Adelaide Perry Gallery, PLC Sydney at 2 – 3pm on Saturday 15 October 2022.
Jo Oliver is also In Conversation with Margaret Throsby at Ryan's Hotel, Thirroul Upstairs from 6pm on Wednesday 26 October 2022. Bookings are essential: thirroul@collinsbooks.com.au.
Ann-Marie Priest longlisted for award
Ann-Marie's book My Tongue is My Own: A Life of Gwen Harwood has been longlisted for the 2022 Mark and Evette Moran Nib Literary Award. The shortlist will be announced on 27 September 2022 and the winners on 16 November 2022.
Eleanor Hogan shortlisted for National Biography Award

Huge congratulations to our 2019 Fellow, Eleanor Hogan, who was shortlisted for the 2022 National Biography Award for Into the Loneliness: The unholy alliance of Ernestine Hill and Daisy Bates (NewSouth Books, 2021). The judges describe Into the Loneliness as 'a feat of miraculous literary excavation, revealing delicate layers of historical data previously not seen before'.
Into the Loneliness was also shortlisted for the 2022 Magarey Medal for Biography and the 2022 Chief Minister's NT Book Awards, non-fiction category.
Ann-Marie Priest publishes Gwen Harwood biography

Congratulations to our 2017 Fellow, Ann-Marie Priest on her publication of My Tongue is My Own: A Life of Gwen Harwood. The book, which is published by La Trobe University Press, was released on 4 May 2022. Copies are available in bookshops and on the Black Inc website, where you can also read an extract. It was reviewed in the Weekend Australian Review on 23-24 April 2022 and an edited extract from the book appeared in the Weekend Australian Magazine. It was also reviewed in the Spectrum section of The Age and Sydney Morning Herald on 21 May 2022 and in the Sydney Review of Books on 6 June 2022.
The June 2022 issue of ABR (Australian Book Review) contains a review of Ann-Marie's book and a commentary from John Harwood, Gwen Harwood's son. Ann-Marie has published an article about Gwen Harwood's poetry in The Conversation (28 October 2022).
2022 Hazel Rowley Fellowship winner announced

The winner of the 2022 Hazel Rowley Literary Fellowship, worth $20,000, is Naomi Parry Duncan, who is writing a book about Gai-mariagal man Musquito, who was hanged in Tasmania in 1825. Musquito, originally from Port Jackson, was a resistance fighter who was exiled to Norfolk Island and taken to Van Dieman's Land – lutrwita, palawa/pakana country.
This year the judges also decided to give a Highly Commended award of $7,500 to Sylvia Martin, who is writing a biography of Australian artists, Eirene Mort and Nora Kate Weston, who were both artists and artisans and who were influential in the Arts and Crafts Movement in Australia in the 1920s and 1930s.
The announcement on 2 March at the Wheeler Centre in Melbourne followed a panel discussion on the dilemmas of biographers 'writing yourself into the story', with Jeff Sparrow, Eleanor Hogan and Yves Rees.
More information about both our recipients can be found on our Fellowship page.
Maxine Beneba Clarke wins prize
Many congratulations to our 2014 Fellow, Maxine Beneba Clarke, who has won the Civic Choice Award in the Melbourne Prize for Literature 2021. This Award is given to the finalist, in the Melbourne Prize for Literature 2021 and Writer's Prize 2021, with the highest number of votes received from the public.
New Hazel Rowley book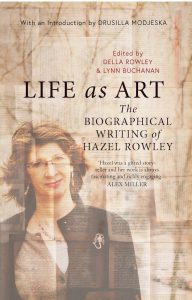 We are excited to announce that Life as Art: The biographical writing of Hazel Rowley was released on 2 July 2021. With an introduction by Drusilla Modjeska, this collection of short pieces has been edited by Della Rowley and Lynn Buchanan. It includes some previously unpublished essays, talks and Hazel's journal entries, and provides a wonderful insight into the craft of biography.
As Alex Miller says on the front cover, 'Hazel was a gifted story-teller and her work is always fascinating and richly engaging'.
This collection of Hazel's work is published by MUP under their Miegunyah Press imprint. For more information, see their website and order your copy now. The South Australian Advertiser ran an article on Hazel and this new book in their 'SA Weekend' section on 3 July 2021. The collection has also received great reviews in the August edition of Australian Book Review, the Review section of the Weekend Australian on 24-25 July 2021, the September edition of the Biographers International Organization magazine, and the ANZ LitLovers LitBlog. The biographer Brenda Niall nominated Life as Art as her 'book of the year' in the December 2021 edition of Australian Book Review.
Caroline Baum has interviewed Della Rowley and Drusilla Modjeska about Life as Art for her biography podcast series 'Life Sentences'. It's well worth a listen and includes an excerpt of Hazel being interviewed about Beauvoir and Sartre.
Fellowship Events >