Hazel Rowley, BookForum, February/March 2008
THE Parisian Village Voice bookstore fights valiantly to stay alive.
It's easy to miss, since the rue Princesse is a small street off the main tourist beat, but most people who come here know what they are looking for. At the heart of Saint-Germain-des-Prés, the section of the Latin Quarter traditionally favored by writers, artists, and students, just a short walk from the Luxembourg Gardens, the hanging sign reads village voice: anglo-american bookshop. The narrow window and door frames are painted Greek-island blue.
Once inside, you will notice a small, energetic figure, who will be behind the counter, darting up and down the spiral staircase with her arms full of books, phoning through orders in her small office in the back, listening sympathetically to a client's woes, or recommending a book to a friend. Odile Hellier moves gracefully (she trained as a dancer), and when she's talking about a book she likes, her brown eyes light up. She is curious about the world, is interested in people, relishes a good story, and delights in humor and the imagination. There's a sensual exuberance about her passion for literature, and when you walk into the Village Voice, you feel it.
I always think of the Village Voice as a writer's bookshop. Writers treasure it. And not only expatriate writers living in Paris, but those who have just flown in from English-speaking countries. "For any writer or reader visiting France, it is often the first place visited, even before one is over jet lag," Michael Ondaatje tells me. "Whenever I land here, I want just one thing, to get to the Village Voice," says Richard Ford. "Every time I go to Paris, my first stop, after checking in at my hotel, is the Village Voice," reports David Leavitt. What is it about this place that draws them like moths to a flame? Writers know the importance of selectivity. A good story is all about what you put in and leave out, and a good bookshop is the same. "Most important is Odile's choice of books," Ondaatje says to me. "She is a trustworthy critic. So the Village Voice is a carefully edited bookshop, and as a result there is no time wasted and too much choice."
The travel writer Pico Iyer has scoured bookshops in five continents, and he could scarcely believe this find, modestly tucked away in a Paris lane. "When I stumbled into the Village Voice last summer, on my second day in Paris, I came upon a selection of English-language books more discerning and unusual than any I had seen in London or New York," he says. In Paris for one week, he found himself making a daily pilgrimage. "I began to detect a whole sensibility at work on its shelves — the ultimate blessing of any bookshop, and a reminder that quality will always trump quantity."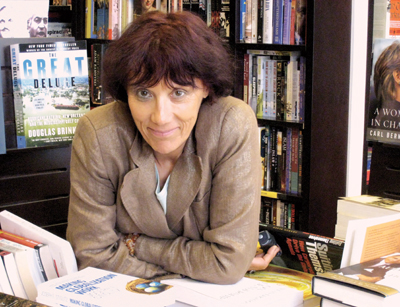 It is a rare and heartwarming experience to walk into a place where books are seen as truly important. In the last ten years, we have become accustomed to chain stores, where books might as well be packets of pasta, the salesperson has rarely heard of the title you are asking about, and you have to spell the author's name while someone types it into a computer. "Browsing" is more a disconsolate kind of wandering, since in the megastore, there is no criterion for selection other than what sells. Within weeks, most books are returned to the publishers; only the best sellers remain.
Faced with the vast quantities of books published every week, Hellier is discerning. She and her two assistants have specialized interests, and they peruse the literary reviews from the UK and the US carefully. "We still have the luxury of publishers' representatives coming to us, and I spend at least one afternoon a week going through catalogues with them and finding out what is coming up in the next six months," says Hellier. "I also listen to my customers. As soon as someone tells me about a book, I'm interested. The thing about ordering, it's partly intuitive. It's almost as if there were vibrations surrounding you, and you have to capture them."
The "independent bookstore," as it is now known, has always gone together with an impulse of generosity. The owner is someone who loves books, whose dream is to create an inviting space in which he or she can share that passion with other book lovers. This idealism sits awkwardly with the commercialism that the owner has to develop in order to survive. "It's a balancing act," says Hellier. She admits that she struggles with anger when clients browse for hours, writing down titles and taking notes, or e-mail her for a price, or ask her to order a book for them, then tell her they ended up buying it on the Internet. "Don't they realize what this means for independent bookshops? Can't they hear the death knell?"
There's another reason writers treasure the Village Voice—the readings. Most of us have had the dismaying experience, at least once, of talking in some chain store, where there is no sign of publicity anywhere and the organizer finally pulls in an employee to swell the audience to four. The Village Voice leaves you with an altogether different feeling about being a writer. Hellier sends out bright blue electronic flyers to everyone on her mailing list, and in the days before the reading, she reminds people who come into the shop. Most of the time, she's the one who introduces the speaker, sharing her thoughts on the book in her soft French-accented voice. (Her copy is inevitably full of little stickers and underlines in pencil.) On memorable evenings, there will be people milling downstairs as well, watching the discussion on closed-circuit television. The writer, for one brief evening, gets to feel like a star. "I have loved the readings there, as an audience member and as a reader," says Ondaatje. "The listeners are upstairs, downstairs, on the stairs, an inch away from the reader, and on the street just outside the door. Some have to sit or stand in contorted, precarious positions. It eventually begins to feel like a crowded pigeon coop."
In January 2006, I gave a talk at the Village Voice myself. Hellier had publicized the event with her usual enthusiasm, but on that cozy winter evening, my reputation was given an additional boost from an unexpected quarter. I was talking about my book on the famous Sartre-Beauvoir relationship. Among the audience perched on the seats upstairs was Ayaan Hirsi Ali, the Somalian-born Dutch writer and outspoken critic of fundamentalist Islamic attitudes toward women, who has needed bodyguards ever since her friend Theo van Gogh was murdered in Amsterdam, with a note pinned to his body warning that Hirsi Ali would be next. For several days before my talk, security men came to case the joint. On the night itself, at 7 pm on the dot, five handsome bodyguards in leather jackets made their way through the throng, with Hirsi Ali discreetly in their midst. They positioned themselves upstairs, close to me. This was before her book Infidel came out, with her photograph gazing from the cover, and no one in the audience recognized her. But everyone was aware of the security men. Afterward, someone said to me, "My God, we knew you had problems with Sartre's literary executor, but we had no idea!"
The readings at the Village Voice provide an opportunity for readers to meet English-language writers from all around the world (England, America, India, Australia, Canada, the Caribbean, and Africa) and give expatriates and French Anglophiles a chance to meet over a glass of wine. Ideally, the cash register jangles cheerfully, and upstairs, there's a line for signings. Even then, there's no profit in it. Not after the hours spent on publicity, and the need for Hellier's two assistants to stay overtime, and the cost of wine and refreshments. "I lose money on every reading," Hellier says, "but they create energy and a sparkle that sets the tempo of life in a bookshop."
Jake Lamar, an African-American writer who resides in Paris, owes his first Paris friendships to the Village Voice. "Odile was one of the first people I met when I arrived in 1993," he says, "and I soon learned that she was indispensable to something I was always searching for in America but only really found when I came here: a true literary community, a broad, interconnected group of people who care passionately about books."
Ever since Odile Hellier opened her bookshop, in 1982, American writers who live in Paris have been saying, "She's our Sylvia Beach." The daughter of a Presbyterian minister from New Jersey, Beach came to Paris in 1916, intending to stay a year or so. A few months later, on her thirtieth birthday, she walked into Adrienne Monnier's bookshop and lending library on the rue de l'Odéon, one of the labyrinth of narrow streets in what was still regarded as the village of Saint-Germain. Monnier was twenty-six, plump and matronly, and wore capes and long skirts that made her look like a nun. Beach was short and wiry, with bobbed hair and velvet smoking jackets that made her look like a young man. The love affair that ensued would have a dramatic impact on Paris's literary life in the '20s and '30s. Soon, Beach opened Shakespeare and Company, the first English-language bookshop and lending library in Paris, at 12 rue de l'Odéon, across the road from Monnier's La Maison des Amis des Livres.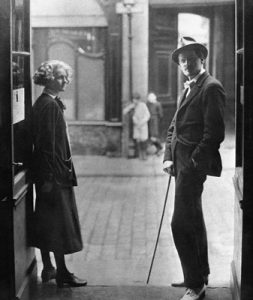 "She had wanted to have her modest little bookshop," Leon Edel writes in James Joyce, The Last Journey, "but fame, in the figure of the tall, slouching Irishman with his cane and his arrogance, thrust itself through her doorway." Beach met Joyce in the summer of 1920, and he was soon telling her his troubles. He was unable to find a publisher for his new novel, Ulysses. In both England and America, publishers were scared of obscenity charges. Beach came up with a daring idea. What if she published the book, under the imprint of Shakespeare and Company? Joyce twirled his cane and beamed.
The plaque at 12 rue de l'Odéon states that Beach published Ulysses in 1922. What a job it proved to be! It took up her precious time, the book was expensive to produce, hundreds of copies were intercepted and confiscated in the US, and Beach gave Joyce nearly all the profits. But from then on, she and her bookshop were on the international map.
In his Paris memoir, A Moveable Feast, Hemingway writes that Beach had a "lively, sharply sculptured face … gay [eyes and] pretty legs," and "no one that I ever knew was nicer to me." The expatriate writers who lived in Paris during the '20s and '30s — Hemingway, Ezra Pound, Samuel Beckett, Janet Flanner, Gertrude Stein, William Carlos Williams, Christina Stead, and others — knew exactly what they owed to Shakespeare and Company. And for French writers who spoke English, the bookshop was a treasure house. In the '30s, Simone de Beauvoir used to borrow armloads of books from Beach's library and would tell Jean-Paul Sartre eagerly about the new narrative techniques she was discovering in Dos Passos, Hemingway, Faulkner . . .
Beach did not have an easy time of it. When she opened her bookshop, the exchange rate was good for Americans, but in 1929, the Depression changed everything, and Americans, no longer able to afford life in Paris, went home in droves. By the mid-'30s, it was clear that war was coming, and in June 1940, Paris fell to the Germans. In December 1941, the Nazis threatened to confiscate the bookshop. Beach hid the books in an apartment upstairs, hoping to reopen the shop at the end of the war. But the experience of the war exhausted her, and she never did.
I ask Hellier what she thinks of the comparison to Beach. "I find it very flattering," she says, "but I wasn't thinking of Shakespeare and Company when I opened the Village Voice. I'm not interested in Paris nostalgia. I want a bookshop for today."
Hellier was forty when she opened her bookshop. It was an idea she had never previously entertained. Until she was twenty, she was intent on becoming a dancer. But she ended up studying Russian and English and training as an interpreter. She spent a year at the University of Moscow and then, in 1969, headed across the Atlantic to polish her English. It was the time of Black Power, feminism, and gay consciousness, and the country was exploding with publishing houses, books, and journals. Hellier ended up staying away from home for ten years, working as a journalist, translator, and interpreter and with an economic-development organization for third-world countries. In Washington, DC, one of her favorite haunts was Kramerbooks, a bookstore-café in Dupont Circle. She used to browse there for hours.
Hellier returned to Paris in 1980 but became restless in her corporate job. "France felt like a tight shoe," she says. One day, she wandered into a bookshop and came away thinking how staid it was, after places like Kramerbooks, which had crackled with excitement: "The idea literally crashed upon me. Why not open one myself?"
At first, it seemed crazy. She had no capital. But what an ideal way to build a bridge between the culture she had left and the culture she had come home to! She found the perfect location in Saint-Germain, even if the premises were shockingly run-down, and with the support of a friend and her family, she opened a bookstore-café. The name came to her one afternoon. In the US, she had loved the Village Voice newspaper, with its daring and openness and sense of Greenwich Village, a community within a metropolis. She wanted her bookshop to exude a similar breath of fresh air.
Hellier sometimes wonders: Is the bookshop, at some semiconscious level, her way of paying tribute to the father she never knew? A member of the Resistance, he had a large book collection, which included the works of Karl Marx, and the Nazis dragged the entire library out into the street and made a bonfire of it. Later in the war, he was killed.
Whatever the underlying drives might be, Hellier has an almost missionary sense of her responsibility. "I consider myself an artisan rather than a businesswoman," she tells me. "My role is to introduce people to good literature." From her childhood onward, books have been her companions, and writers and their thoughts have enriched her thinking; today, as much as ever, there are few things she enjoys more than curling up in bed with a good book: "When I travel, my main luggage is a bag of books. I always fear finding myself in the midst of a catastrophe, and books are reassuring."
Hellier still talks of "being incredibly lucky" to be surrounded by books and writers, and yet, in many ways, she has found herself in the midst of a catastrophe. Today, independent bookshops are sinking ships. In a few years' time, there are unlikely to be any left.
At first, the Village Voice flourished. During the '80s, the exchange rate was good, and Americans were again flocking to Paris. During a packed bilingual reading one evening, the Argentine painter Ricardo Mosner worked away at a vibrant canvas that has hung ever since over the staircase. Raymond Carver, Allen Ginsberg, and Lawrence Ferlinghetti came to speak. So did William Gaddis, Richard Ford, Don DeLillo, Derek Walcott, and Russell Banks. When Stephen Spender gave a talk, Mary McCarthy was in the audience. One evening, Edmund White introduced Jonathan Raban, with Bruce Chatwin among the audience. Mavis Gallant, the Canadian writer who has lived in Paris since the 1950s, has spoken several times. Kathy Acker gave a talk. And Susan Sontag. The Village Voice was a lively scene. Not even the bookshops of Berkeley could beat this.
The readings have continued, as many as two a month. Hellier notes her guest speakers in her Moleskine notebook, and by now, the little black book reads like a veritable who's who of writers. Many have become Hellier's personal friends. (Three years ago, Hellier was among the small circle at Sontag's funeral in the Cimetière du Montparnasse.) At these events, the air can still be charged with excitement. But it's harder these days. The atmosphere surrounding books and writers has been transformed. The Village Voice feels like an island in a sea of commercialism.
When Hellier opened her bookshop, there was no competition from megabookmarts. Barnes & Noble, Borders, Waterstone's, Virgin, and FNAC came into being in the late '80s and were consolidated in the '90s. Because the stores had abundant capital and turnover, publishers could offer them large discounts, which enabled them to sell more cheaply to customers. Publishers started to pay to have books placed at the front of the stores — prime real estate for creating blockbusters. These bookstores did not care what was inside the books. Books were products. This was about business.
And then, in the mid-1990s, Amazon came along. The virtual bookshop. The bookshop that does not exist. The bookshop you cannot browse. No surprises here, no alighting upon a treasure. But you can order a book without stepping out of your living room, the books are dirt cheap, and if you buy more than twenty-five dollars' worth, Amazon pays the shipping charges. How could independent bookshops compete with this?
No publisher pays Odile Hellier to place books at the front of her little shop. Since she is shipping books from the US and the UK, her mailing costs are high. If a customer wants a book fast, Hellier gets it within five working days, and conscious that she is competing with Amazon, she pays the extra cost herself. British and American online booksellers do not have to pay the excessively high French taxes that Hellier faces. Nor are they obliged, when they sell to France, to observe the strict French laws that limit the amount booksellers can discount books. "You feel as if you're against a mountain," says Hellier.
We readers might be gleeful about the cheap books and ease of access provided by the Internet, but the price we pay is that independent bookshops have become an endangered species, and the book industry is in crisis. For all those "used & new" books floating about on Amazon (review copies and so on), neither the writer nor the publisher receives royalties. These days, publishers are loath to republish a book that is out of print, for they cannot compete with the copies that can be scrounged up on the Internet, as if from nowhere, at giveaway prices.
Publishers will tell you that the print run of a book is determined by preorders from the chains. Their national-marketing manager will spend a few minutes at the computer, flicking up the sales of the author's previous book. This destroys any concept of diversity or originality. The market is effectively censoring what we read.
Odile Hellier is busy, busier than ever. Sylvia Beach did not have to deal with endless e-mails requesting information or with clients who want books from the United States right away. "You're trying to square a circle," says Hellier. "The thing is, commerce runs on certain basic principles, and the Internet sabotages them. How can we make a profit if we have to pay the taxes and mailing costs ourselves, in order to compete? Since the Internet has taken many of my clients, I no longer have the capital to order all the books I want. And if I don't have a book in stock, the client turns to Amazon. It's a daily juggling act. I check my account obsessively, four or five times a day."
Saint-Germain no longer has a village atmosphere. The sense of neighborhood has all but disappeared. The psychoanalytic bookstore, Le Divan, across the square from Les Deux Magots, has been bought by Dior. The Closerie des Lilas, where Hemingway wrote parts of The Sun Also Rises, and Le Dôme, Café du Flore, and Deux Magots, are among the most expensive restaurants on the Left Bank, with plaques everywhere (picasso's table) and walls covered with black-and-white photos of the writers and artists who used to haunt these places.
For Odile Hellier, the bookshop is an all-consuming passion. She goes there six days a week. She arrives at 10 am, and although the shop closes at 7:30, she rarely leaves before 9. In the night, she wakes up filled with anxiety and does calculations on bits of scrap paper. "My insect patterns," she calls them.
Why does she do it? "If I think about my values, the things that make my life worth living, it's an extraordinary experience to have a bookshop. It gives you access to writers, readers, language, and ideas. It's eye-opening and humbling," she says. "But if you consider the culture we live in today, in which the measure of everything is money, you think, 'My God, what am I doing?' You feel as if you've been left by the side of the road, you've missed the train, you're not in the swing, you're a dinosaur. Some evenings, I go home filled with despair. And the chances are, that very night I'll read a book that turns my mood around." She smiles, and her eyes light up. "I'm determined to fight. I'll survive as long as I possibly can."
–––––––––––––––––––––––––––––––––––––
Hazel Rowley is at work on a book about Franklin and Eleanor Roosevelt.